Getting an Electric Bike helmet should be the first thing you do after buying the bike itself. E-Bikes are faster and heavier than standard bikes, meaning they require extra care. Today we'll cover the best Electric Bike helmets on the market.
No time to read? Our top picks at the cheapest prices
Best Commuter E-Bike Helmet – Urbanize NTA MIPS
Great Commuter E-Bike Helmet – Giro Camden MIPS
Best E-Bike Helmet For Leisure – Bern Hudson
Best eMTB Helmet – POC Kortal Race MIPS / Full Face – Giro Disciple MIPS
Best Smart Electric Bike Helmet – Lumos Kickstart MIPS
In some states and countries, you aren't legally required to wear a helmet for Electric Bike riding where you live. This freedom of choice doesn't mean going lidless is a good idea by any means.
Helmets save lives, it's as simple as that. It doesn't take much of a knock to the head to cause serious, long-term damage. Weighing up the cost of a helmet vs a hefty hospital bill or the possibility of long-term treatment makes buying one an easy choice.
With the speed of E-Bikes plus the fact people don't often expect or look out for them it's worth thinking twice about skimping out. The following helmets are either the best in their class or specifically designed for Electric Bikes.
Looking for a new Ebike or Helmet at a discount?
Check out our Black Friday Ebike Sales page
E-Bikes Go Faster + Weigh More
E-Bikes can go faster than standard bikes – a key reason we buy them! The speed alone means that you are more likely to be in a higher-speed accident. Higher speeds mean higher consequences.
Electric Bikes are also heavier because of the weight of the motor, battery, and a slightly sturdier frame. The weight means at a higher speed when you try to brake or if you hit something, you'll go further – along with the bike.
That means less stopping distance and more chance you won't be able to stop before hitting something. It also means if you do hit something – like a car bonnet or a tree – you and the bike will probably go further. That means more scraping or hitting other objects.
People Don't Expect Electric Bikes
E-Bikes are a fairly new technology – as well as being very quiet for their speed. We think in the future they will be a predominant method of transport along with other smaller Electric vehicles. However, right now people just aren't used to them.
This means drivers aren't looking for you as much as they should be. This applies to traditional bikes but E-Bikes especially so with hills and faster roads. This also means pedestrians crossing without looking, people walking on bike paths, and other cyclists.
What Kind Of Helmet Do You Need For Electric Bikes
Most of the things you'd normally look for in a bicycle helmet will of course stay the same for E-Bikes. That being said, there are some key differences. The best Electric Bike helmets should have most of the following: –
High Safety Standards – We've recommended helmets that meet the new NTA 8776 E-Bike safety standard, as well as both the CPSC (US) and EN1078 (Europe) standards.
MIPS Protection – A newer feature on helmet that protects the brain from rotational forces
Comfort & Fit – Your helmet needs to fit properly for long periods.
Ventilation – Where you ride is important, in places like Florida you'll need good vents. In colder areas ear protectors are a good idea.
Lights/Extras – Lights to stand out as well as indicators now come integrated on many models.
Should I Get A Full Face E-Bike Helmet?
The 1976 Hurt Report showed that the most likely point of impact in a motorcycle accident was the lower front part of the face – i.e. the chin.
If you are doing downhill mountain biking or riding on roads regularly then strongly consider either a full-face eMTB helmet or a more safe scooter or motorbike helmet. See full-face E-Bike helmets.
A New Standard? NTA 8776 E-Bike Helmets
In between the lower safety of a normal bike helmet and the full protection of a motorbike helmet – there is a new standard for E-Bikes. The NTA 8776 E-Bike Helmet certificate is a new European standard that's gaining popularity.
It's rated to protect you at higher impact forces than a bike helmet and covers more of your head. It's literally designed for Electric Bike accidents so we strongly recommend getting an NTA 8776 helmet. Though it isn't required in many places, we think it eventually will be.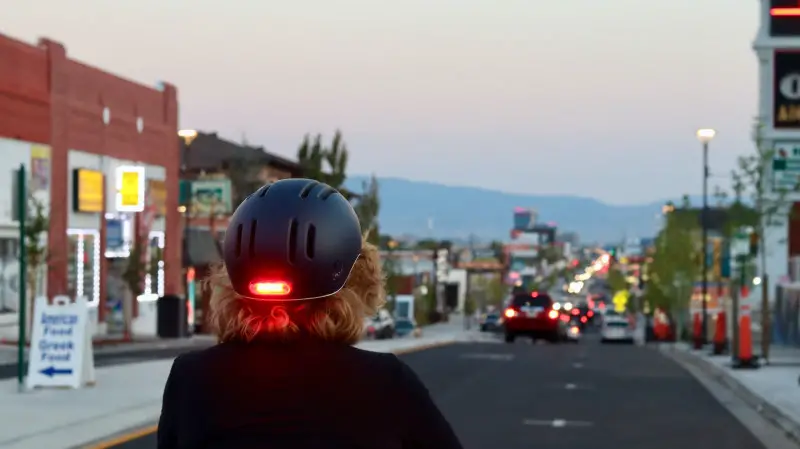 What Is The Safest E-Bike Helmet?
For the safest Electric Bike helmet, we suggest a helmet with NTA 8776 certification, MIPS technology, a bright color, and integrated lights. All of the helmets here have those but the Lumos Kickstart MIPS also has indicators too.
Best Electric Bike Helmet For Commuters
Lazer Urbanize NTA MIPS
NTA 8776 E-Bike Certified
MIPS Protection
Large, Bright Rear Light
418g Total Weight
Removable Magnetic Panoramic Lens
Includes Winter Kit Ear Pads
Adjustable Top Vents
Dial Fit
Lazer is a very well-respected brand that makes a wide range of helmets. Their design incorporates comfort and style, and this got 5 stars on the Virginia Tech helmet safety rating.
The Lazer takes our overall win for the Best Commuter E-Bike Helmet because of its features and extras. The rear light is bright and can be removed to charge by USB with the included cable. There are three modes including constant and two flashing.
The lens attaches surely with magnets and clips to the top of the helmet if you don't want to wear it. Brilliant for bad weather or if you wear glasses. The strap is also magnetic and easy on/off. There's a rear hole big enough for a lock to go through too.
This model comes with a winter kit which has a small wind blocker for the front vent, as well as earmuffs! These are padded and attach to the inside of the helmet and block a bit of wind.
Lazer also has a Crash Replacement Program. This gives you 50% off a new Lazer helmet if you have a crash in the first three years. Just contact them with proof of purchase and pictures.
Great Electric Bike Helmet For Commuters
Giro Camden MIPS
NTA 8776 E-Bike Certified
MIPS Protection
Large, Bright Rear Light
Adjustable Top Vents
Dial Fit
The Camden is an innovative, smart, and safe helmet with a great price for its features. Safety-wise it's rated to the NTA 8776 E-Bike standard with integrated MIPS protection. It covers a good part of the head and fits well with a single adjustable wheel.
Looks-wise this is probably the smartest of the bunch. It comes in an understated gray or black, which should fit in well if you ride to work in a suit. No options for dayglo yellow, however….
The rear light is very bright and noticeable as well as having three different modes – one constant and two flashing patterns. It is rechargeable with an included USB cable though the light isn't removable.
The top four vents are closable for worse weather though it has 6 other vents for 10 total. The buckle is
Make sure you get the Camden not the similarly named Caden which is a similar helmet without the NTA 8776 E-Bike safety rating.
You can also get a version of this helmet with an in-built visor that retracts into the body of the helmet. It's called the Bexley and it's a fair bit more than the Camden. If you'd prefer a retractable visor it's perfect but if you're happy with a detachable visor instead. It also isn't NTA 8776 certified.
Best Electric Bike Helmet For eMTB
POC Kortal Race MIPS
NTA 8776 E-Bike Certified
MIPS Integra Protection
Breakaway Peak
NFC Medical ID + Recco® Reflector
Fully Vented
360° Fit Wheel System
The Kortal Race MIPS is the only Mountain Bike style helmet that meets the NTA 8776 E-Bike Standard. It's a feature-packed helmet that's surprisingly good value compared to other similar MTB helmets.
If you're keen to hit the trails or downhill on your E-Bike this helmet fits the bill and looks smart while doing so. It comes with a more integrated MIPS Integra which gives a higher level of protection with a slimmer fit.
The Kortal also has a couple of neat tricks up its sleeve. It has an NFC Medical ID chip built-in so you can download an app, put in relevant medical info, and attach that data to the chip for first responders to read.
It also has a RECCO® Reflector which is a tiny, battery-free transponder that can be picked up by search and rescue teams. If you like big off-road trail days and let people know you have this – it could be a lifesaver.
The helmet is designed to fit goggles well and has a patented breakaway peak that'll protect you from the sun but won't cause issues in a crash. Comes in a range of colors and sizes.
Best Electric Bike Helmet For Leisure
Bern Hudson
NTA 8776 E-Bike Certified
MIPS Protection
350g Total Weight
Removable Rear Light
Removable Cap-Style Visor
13 Vents
The Hudson takes our top pick as the best E-Bike helmet for leisure. It hits all the safety measures with NTA 8776 certification and MIPS anti-rotation tech.
The rear red light is removable and rechargeable with the included USB cable. It has the normal three modes of constant light and two flashing patterns.
Weighing in light at 350 grams it also breathes well with 13 vents all around. A U-Lock can also fit through the rear vents for locking the lid to your bike. The removable cap is a neat feature that works great for those hazy summer days
The Bern comes in a range of well-thought-out colors as well as a bright "hyper green" (more of a yellow) if you want a color that stands out to traffic. You could also mix and match different colors for family or kids. Overall an excellent E-Bike helmet for leisure or commuting.
Best Smart E-Bike Helmet
Lumos Kickstart MIPS
NTA 8776 E-Bike Certified
MIPS Protection
Front + Rear Lights
380g Total Weight
Automatic Brake Lights
Indicator Lights + Remote
22 Vents + Dial Fit
The Kickstart MIPS from Lumos got its name from the wildly successful Kickstarter it ran. The product was initially funded through crowdsourcing but has now created other models and upgrades to the original.
The features on the Kickstart MIPS are second to none. The lights at the front and rear are really bright and you can indicate left or right on both. A small mountable remote attaches to your handlebars for a quick button press or you can use Apple watch gestures – pretty cool.
You can use the included app to sync up with Strava, Apple Health, and others. From the app, you can change your light brightness, choose a pattern (or a symbol like a heart), and track your rides.
The design is well thought out and the indicators are large and very obvious to road users. The rear light has very clever automatic brake lights. The helmet has tech that notices when you are coming to a hard stop and lights up the rear in a bright red.
It has more of an aerodynamic look that would fit in with road racers. The light is rechargeable and takes just two hours to full. You can get a few different colors including black, white, blue, or a more standout electric lime. All colors have small reflective sections.
The Kickstart is the only helmet in their line-up to be NTA 8776 E-Bike certified so we don't suggest others. The MIPS version contains the rotation absorbing tech we'd always recommend – so if you are buying it check you are getting the MIPS version, not the standard.
Best Budget Electric Bike Helmet
Serfas Kilowatt
NTA 8776 E-Bike Certified
MIPS Protection
484g Total Weight
Adjustable Vents
Removable Rear Light
If you're looking for an E-Bike Helmet on a budget the Serfas Kilowatt is perfect. For just $70 you get the same NTA 8776 E-Bike safety certification with the MIPS rotation protection.
It also has both a removable rear light and vents that can be adjusted to close. The fit can be adjusted with a rear dial wheel. All are pretty nifty features for a helmet that comes in at half the price of most others.
Comes in a range of colors from the cooler Matte Black and Sky Blue, to the high visibility Orange or Yellow. All colors have reflective highlights.
Best Full Face Electric Bike Helmet
Unfortunately, there aren't any NTA 8776 E-Bike certified full-face E-Bike helmets on the market yet. In the meantime, though we would recommend a full-face helmet if you are going to be doing any more intense downhill eMTB riding, or faster city riding alongside traffic.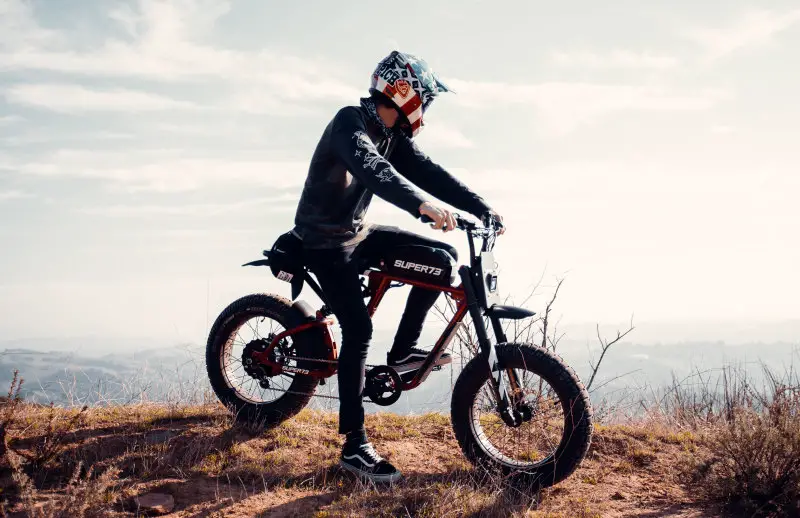 Here are a couple of recommendations that should fit the bill with increased safety features: –
ASTM-1952 Downhill Certified
MIPS Protection
Visor
14 Vents
GoPro Camera Mount
As an E-Bike helmet, the Giro Disciple MIPS is a both safe and affordable option for full-face protection. It has the full MIPS rotation protection we'd recommend as well as a fiberglass shell.
It comes with full padding and removable cheek pads. There is also an integrated GoPro mount for filming your sends.
Best Foldable Electric Bike Helmet
Neither the Plixi or Fend below are rated to NTA 8776 standards and there are no folding helmets that meet their requirements. We only recommend a folding helmet if you are the type of person that absolutely won't wear a helmet unless it fits in your bag.
If you're really tight on space and use your E-Bike for very short trips in safe areas, this could be an option. These also could be great if you use public transport or ride-share bike services sometimes and need an emergency helmet when you do.
The Plixi is a cleverly thought-out design that folds down to fit in your hand easily. It has the standard CPSC and EN1078 helmet safety certification.
The Fend is another folding helmet alternative that meets the CPSC and EN 1078 standards. If you flit between public transport and bike-share services this could be a really handy helmet to have.
Read our new guide to the Best Electric Bikes For Heavy Riders and find out what our top six E-Bike suggestions are. Also check our expert picks for the Best Electric Bike For The Money this year!
Do You Need to Wear A Helmet On E-Bikes?
In many places, you legally need to wear a helmet on an Electric Bike but it does vary. For basically all states and countries, helmets are always required for Class 3 E-Bikes. Some places require helmets only for those under a certain age, like 16 as in Washington DC and Florida.
Though it may not be required by local E-Bike law where you live, we totally recommend wearing helmets on Electric Bikes. A recent study find that "persons injured using E-bikes were more likely to suffer internal injuries and require hospital admission" compared to standard bicycles and "more than three times more likely to involve a collision with a pedestrian" compared to bicycles and scooters.
Can You Wear A Normal Bicycle Helmet On An Electric Bike?
In most countries – Yes, you can wear a normal CPSC or EN 1078 certified bicycle helmet on an E-Bike. Basically, any helmet would be legal as every bicycle helmet must pass those standards.
However, we really recommend getting a helmet with the new NTA 8776 E-Bike safety standard because of the increased speed and dangerous possibilities. More below.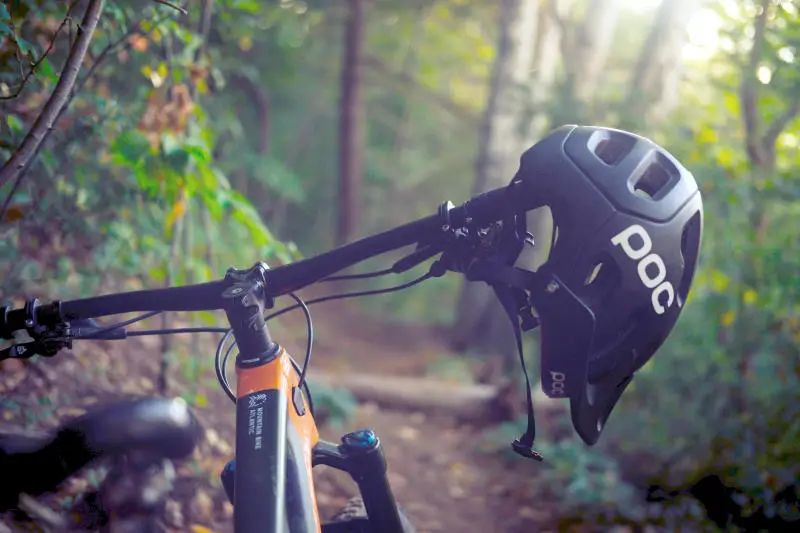 What Standards To Look For On E-Bike Helmets?
Many helmets you can buy will have multiple safety standards printed on them. The different standards are for different countries with some stricter than others. They all slightly vary though there are some that are recommended.
Usually, manufacturers make helmets to be sold worldwide so you'll get a few on one helmet even if that standard doesn't apply where you live. For example, most helmets meet both the CPSC and EN 1078 standards.
What Is A MIPS Helmet?
New E-Bike Safety Standard – NTA 8776:2016-12 – Commonly known as just the NTA 8776. This was the first E-Bike helmet safety standard, made by the Royal Netherlands Standardization Institute (known as NEN).
It was a collaborative effort that aimed to pass a new EU safety standard for Electric Bikes because of their growing popularity. This is the standard we'd recommend if you're serious about being protected while riding an E-Bike.
Scooter and motorbike helmets come with a much higher set of safety standards than bicycle helmets. Motorbike riders normally also require protective equipment like reinforced, skid-resistant jackets, boots, and gloves.
In comparison, your standard bicycle helmet just straps onto the top of your head and offers very little side protection. There is actually a new safety standard for Electric Bike helmets called NTA 8776. It beefs up existing bike standards and falls somewhere below motorbike helmets.
You can view the full standards for testing here and here. Revised in December 2016.
CPSC – The Consumer Product Safety Commission has the most common helmet certification used in the US. Since 1999 all bike helmets that are sold in the US need to pass their tests to meet the standard.
Has a standard impact energy pass test of less than 300g. This measures the amount of force transmitted to your head on impact. Less force transferred is better.
CE EN 1078 – The standard European mark for safety which was updated in 2012. All bike helmets sold in the European Union must pass this test.
Has a slightly lower impact energy pass test of less than 250g but requires the helmet to cover a larger amount of the head than the CPSC standard. The BS EN 1078 is the British version that's exactly the same but named differently because the UK is a very special boy yes you are.
Snell Foundation B-95A – This standard isn't required by any country or region but is a voluntary test. It has an overall stricter set of tests to pass and includes more high-speed impacts in its methods.
We think the Snell B-95 mark carries a lot of weight for E-Bike Helmets and recommend lids with this mark. The B-90A is another similar standard and the B-95C is a kid's (under 4) helmet standard.
ASTM F1952-15 – The American Society for Testing and Materials downhill standard is another tougher rating for bicycle helmets. It again covers higher speed impact as well as impacts lower down on the head.
Basically seen as the standard for downhill mountain bike racing. We'd also see it as key if you are planning of using an eMTB or Electric Mountain Bike.
If a helmet has this standard and has a chin bar, that bar must also meet another ASTM test's standards.
How Much Should You Spend On An Electric Bike Helmet?
If you get an NTA 8776 rated and MIPS protected helmet, you can spend as little as $70 for a good E-Bike Helmet. As more manufacturers make E-Bike Helmets to this standard, prices should go down. Look at safety standards, not price.