Electric bikes are amazing because everyone can enjoy riding and getting out on the trails – regardless of ability or body type. For heavier riders there are a few extras to consider, but we've simplified it. Find what you need, what you don't, and our top picks for the best electric bike for heavy riders.
We're basing "heavy rider" on your weight being around 250lbs or higher. There are also bikes in this list designed for 300-400lbs too. There are plenty of good options available for you for everything from commuting and leisure up to mountain biking and off-roading.
The biggest problem is choosing from the thousands of electric bikes that are out there. We've whittled it down to only trusted brands with good reputations and serious strength. You won't find random cheaply-made E-Bikes here.
Best Electric Bike For Heavy Riders – Our Picks
No time? These are our personal favorites
Best Commuting E-Bike – Electric Bike Co Model R
Best Leisure E-Bike – Zooz Ultra Urban 1100
Best Off-Road E-Bike – Aventon Adventure
Best For 300lb+ Riders – Rad Power RadWagon 4
Best Electric Mountain Bike – Trek PowerFly FS 4
Best Hunting E-Bike – QuietKat Warrior
What Does An Electric Bike For Heavy Riders Need?
First up, the bike needs to have sturdier parts to take more weight. A solid frame and wider tires are the basics, but other parts like a nicer seat and sturdy pedals will help. For E-Bikes specifically, a high-powered motor and a big battery are a necessity.
These are the things we think you need to have for a heavier rider's electric bike, and some optional upgrades that will make the biggest difference in your ride.
Must have
Good motor – You'll want a powerful and robust motor that can push higher weight longer. A smaller motor will take longer to accelerate and react, and may struggle uphill
Sturdy frame – A thicker, well-made frame is key to a bike that won't develop cracks. An aluminum alloy or titanium frame will give higher strength at a lower weight
Different assist levels – This allows you to change how much assistance you get so you can start off with more help and lessen the motor usage over time
Good suspension – A high-quality suspension that will give you a comfortable ride over drops and bumps is really important for a comfy journey
Big Battery – The more weight the bike carries, the more power is needed to propel the bike. Opt for the larger battery if there is an option
Wider Tires – More air volume avoids flats in certain situations, and also makes the ride comfier for heavier riders. A smaller wheel with a wider tire is better than just a larger tire
Double Wall Rims – Your tires need to stand up over time, this will help massively
Nice to Have
Comfy Seat – A good seat will turn a rough ride into a much nicer day out. A wide, soft seat is great but a seat post with suspension is the ultimate upgrade.
Thru-Axle – Where the tire is mounted onto the forks, a quick-release skewer is less sturdy than a thru-axle
Step-Thru Frame – A big, heavy bike may have quite a high step-over to mount the bike. A step-thru or low step frame drops the top bar, allowing you to get on and off easier
Dropper Seat Post – If getting on and off is a concern for you, consider a dropper. This style of seat post drops super low and pushes back up with a dedicated button on the handlebars. Often used by downhill mountain bikers, but easy to install on many E-Bikes
Walk mode – When you need to step off and push, using walk mode allows you to hold or push a button to slowly move the bike forward when you aren't mounted. Read What Is Walk Mode On E-Bikes?
Good brakes – Disc brakes over caliper/rim brakes will provide better braking power, and will wear better, leaving less stress on your tires
Do Electric Bikes Have A Weight Limit?
All bikes have weight limits, based on how much all of their parts can bear. Individual electric bikes each have their own weight limit per model. Most adult E-Bikes are designed to carry up to around 250lbs or 113kg.
However, there are many electric bikes that are built to take 300-350 lbs. Every E-Bike we've listed is rated for 300lbs or higher and we've included the weight limit directly from the manufacturer.
The weight rating is based on what the manufacturer thinks the bike can take, without comprising the structure. Most of these can probably take more weight, but bumps and prolonged stress could cause parts to break down. The best electric bike for heavy riders is the one you know will last.
Best Electric Bike For Heavy Riders – Best Commuting E-Bike
Electric Bike Co Model R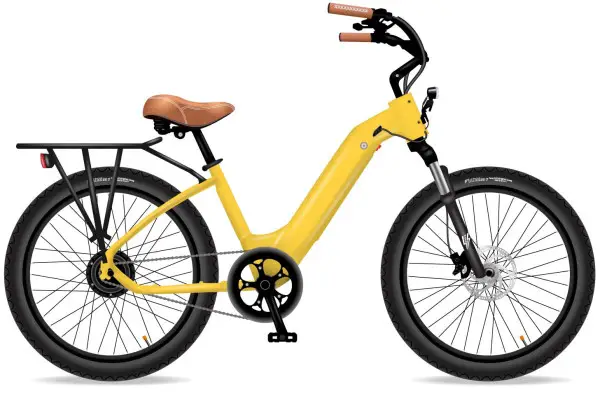 380lb / 172kg Max Load
750W Motor – Class 3 Pedal and/or Throttle
3″ Wide Antipuncture Tires + Double Walled Rims
Adjustable Front Suspension w/ Lockout
Step-Thru Frame
High-Quality Disc Brakes
Made In The USA
Rear motor
Single Size Frame
Better for shorter riders – Though a higher Seatpost will fix this
The Model R (for rugged) is an excellent choice as a leisure E-Bike and easy commuting option that also works for light off-road trails. It is rated for up to 380lb / 172kg riders. It ticks all the boxes in terms of power, durability, and comfort while coming in at a reasonable price.
The frame is sturdy while still offering a dropped top so getting off after a tough ride is easy. The 3″ thick wheels and front suspension allow you to go over bumps comfortably without risk of a puncture. The suspension is also adjustable and can be locked out.
The bike comes with good handlebars, a comfy seat, front and rear lights, sturdy pedals, an integrated battery, and quality disc brakes as standard. They also come fully built. That's a lot of features without upgrading.
The bike is sold as a class 3, but you can switch between all of the classes in the software easily. It's also really easy to choose whether you want pedal assist only, throttle only, or a mix. The display shows speed, mode, plus riding info and various assist levels.
There are plenty of color options and upgrades available. Front and rear baskets, fenders, GPS tracker, helmet, locks, repair kits, and more. Most of which can be shipped in a range of 35+ different colors!
The Electric Bike Co is a California-based company that hand makes every bike to order in their own offices. They've done an excellent job of offering quality and good customer service while still being great value for money.
One thing to note is that riders that prefer to be lower to the ground will like this bike. However, if you prefer a higher and more efficient riding position, this bike is a little low. Luckily a taller seat post will fix this problem but you'll have to buy one yourself.
Suggested Upgrades
Higher seatpost for taller riders
Upgrade seatpost suspension
Upgrade battery to 14Ah or extra battery option
Choose your own colors for everything!
Best Leisure Electric Bike For Heavy Riders
Zooz Ultra Urban 1100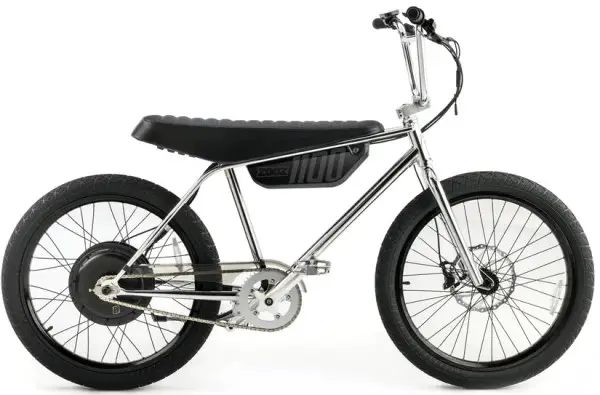 750W 52V Motor
330lb / 150kg Max Load
2.4″ Wide Tires
Hydraulic Disc Brakes
19.2Ah / 1092Wh Battery
Steel Frame
Rear Motor
No seat height adjustment
No suspension
Zooz make the coolest Electric Bikes on the market – hands down. If you want a slick-looking E-Bike to cruise around on, the Ultra Urban 1100 will turns heads.
The look is sleek, classic, and understated. The chrome and black really pop, and the long seat conceals the battery, motor, and all of the electrics perfectly. The display is small and sleek, and nothing feels out of place on this E-Bike.
The bike comes as a 20mph Class 2, which is throttle only. However, it's very easy to unlock that and switch to pedal-assist. This one has a top speed of 33mph when unlocked (though that should be on private property only). It has a range of modes depending on how much effort you want to put in.
Overall the parts are high quality and meant to last. Hydraulic brakes mean good stopping power, with the thick tires meaning a very comfy ride. This model is the beefiest and most expensive. Basically all Zooz bikes are the same but the Ultra Urban 1100 has the biggest motor and battery.
This bike is best suited to fun city riding, short commutes, and cruising down beach boulevards – hence the "Urban" in the name. It's not built for off-roading though the chunky tires do absorb the impact on small stretches of dirt and tracks.
Talking about the drawbacks, really they're part of the design rather than oversights. The steel frame is heavier but as a cruiser, this doesn't make a big difference. It does allow for the amazing chrome finish.
The motor on the rear is less efficient that a mid-drive but on a cruiser you're normally sat further back, meaning that pushing position actually works really well.
The long seat design allows you to choose your seating position depending on what works for you. However, you can't bring it up or down.
Suggested Upgrades
Best Off-Road Electric Bike For Heavy Riders
Aventon Aventure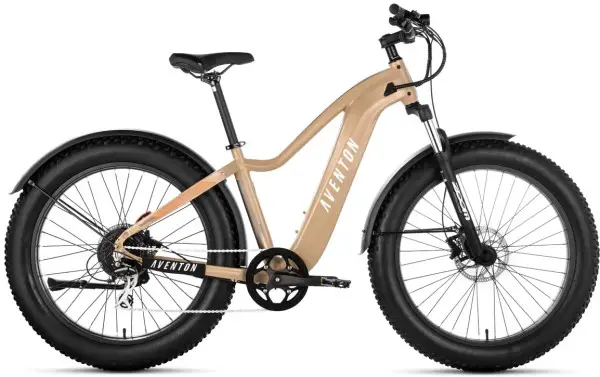 750W Motor
400lb / 181kg Max Load
Adjustable Front Suspension
720Wh Hidden Battery
Double Wall Rims & 4″ Tires
5 Speed Levels & 8 Gears
Rear Hub Motor
Large frame
The Aventon Aventure is a great pick for bike trails and exploring without the restrictions of a smaller bike. It can handle up to 400lbs, so fits perfectly for heavy riders who want an electric bike for trails and more.
You've got all the things you'd expect in a high-quality bike that can handle up to 400lbs. The rims are double walled, the tires are thick 4″ off-roaders, and the frame is built to take a beating. This is a well-reviewed electric bike that will see years of use.
With little extras like a rear fender, lights that are integrated into the body, and a backlit display, the Aventon Aventure seems to have thought of nearly everything. It also comes in three sizes for different heights.
You can sync the Aventure to their Android or iPhone app to see charging time, average speed, and more. This allows you to keep track of your days out and how your fitness is improving after buying the bike.
This E-Bike comes as a 20mph top speed Class 2, but can easily be adjusted to a higher speed Class 3, or higher on private property. Definitely the best electric bike for big guys who want to get out there.
Best Electric Bike For Heavy Riders – 300lb+
Rad Power RadWagon 4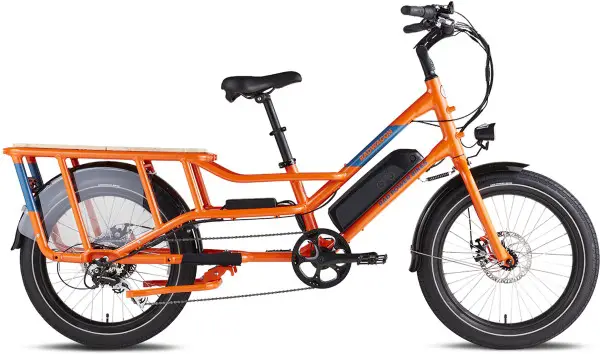 750W Motor
350lbs / 159kg Max Load
672Wh Battery
Sturdy Two-Leg Kickstand
Huge Rear Rack
3″ Tires
Telescoping Seatpost
No disc brakes
Rear hub motor
No suspension
Rad Power are a trusted and reliable brand that have been making popular models like the RadWagon and the RadRover for a few years now. They've refined and upgraded all of their models, and the latest selection comes with an excellent option for heavier riders.
The RadWagon 4 is a brilliant bike for anyone wanting to use their E-Bike for shopping trips, running around your business cargo, or family fun. This is a cargo bike that's built for the whole family too.
If you are a heavy rider and plan to use it just for yourself, it has a great max weight of 350lbs and is built to last. The frame is thick but light with 6061 aluminum.
The RadWagon 4 doesn't have suspension, but for a cargo bike that's pretty normal. However, the small but thick 3″ tires and double-walled rims will mean the ride is smooth. This is the electric bike that holds the most weight comfortably in our list.
With a telescopic seatpost, the bike will suit all heights. Extras include front and rear lights (that indicate when you brake) and excellent front and rear fenders that will protect your new bike from mud and puddles.
Rad Power bikes, and especially the RadWagon are excellent because of the massive range of different accessories! The big rear rack can be upgraded with one or two child seats, child handles, side running boards, a large cargo rack at the rear and front, pegs, and bags.
It has five levels of pedal assist plus a throttle, with a simple thumb shifter for the seven gears. Essentially this is the bike to get if you want a fun family ride that'll do a bit of everything, or something cool to cart around cargo to and from your house or business.
Suggested Upgrades
Seats for your family
Front and rear racks or bags for cargo
Best Electric Mountain Bike For Heavy Riders – Just Under 300lbs
Trek Powerfly FS 4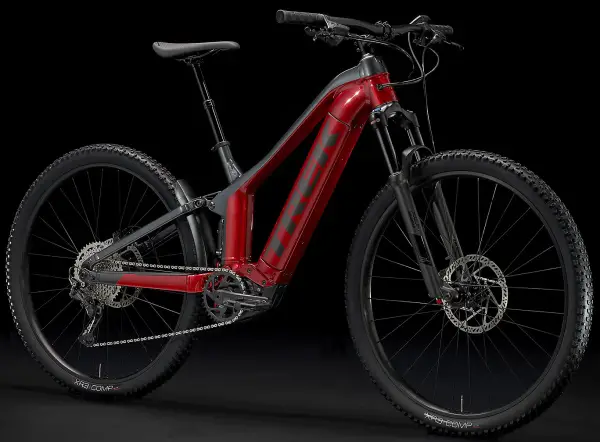 300lbs / 136 kg Max Load
Top Quality Full Suspension
Bosch Performance Mid-Drive Motor
Dropper Post Pre-Installed
Lifetime Warranty
Wait times to purchase online
The problem with eMTBs (electric mountain bikes) is that the vast majority are built to be as light as possible. That means faster speeds on the way down and (more importantly) less weight to haul uphill again. However, it means most eMTBs are rated for 250lbs or less.
The Trek Powerfly FS 4 is one of Trek's E-Bikes that are rated up to 300lbs max load, meaning heavier riders could get great use out of it. It's fully featured and top-of-the-line, with literally every part being excellent for bearing weight, taking a beating downhill, and pure efficiency.
The motor is a Bosch Performance CS model that is rated at 250W for legal purposes but definitely outputs higher. The battery is 500Wh but everything is super high quality. If you are just under 300lbs and want to get out on the downhills, with this E-Bike you're in good hands.
This full-suspension version is adjustable in many ways, from the suspension itself to the handlebars and a pre-installed dropper post for easy mounting and better downhill position.
Uphill is where Trek electric bikes shine. You don't have to struggle and you can choose how much assistance you get. Choose how many trails you want to hit without exerting yourself too much by the time you get to the top. E-Bikes are a game changer for this.
Though it's expensive compared to other bikes, the Powerfly FS 4 very good value for what you get. You also don't really need anything extra apart from any personal MTB parts you prefer.
As a road and commuting bike, this is excellent for anyone with back knees, hips, or a sore back. The suspension feels like butter and the motor means you can actually enjoy your daily commute.
Suggested Upgrades
Pedals that work best for you
Learn more about Electric Bikes
– What Are Electric Bike Classes
– Electric Bike Batteries Explained
– What Is Walk Assist On E-Bikes
Best Hunting Electric Bike For Heavy Riders
QuietKat Warrior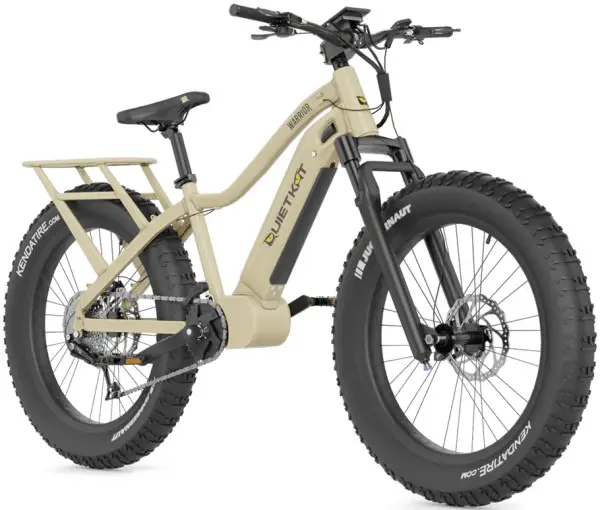 325lbs / 147kg Max Load
750 or 1000W Mid-Drive Motor
614Wh Battery
Disc Brakes
Heavy Duty Build
4.5″ Thick Tires
Adjustable Front Suspension
Need something even more off-road? For hunting, fishing, and long days exploring the outdoors, think QuietKat. They are the original E-Bikes made for hunters, with a great range of features and options for getting out there and hauling everything back.
In fact, they've also partnered with Jeep for their first branded E-Bike. For heavy riders, we suggest their Warrior. This model is designed for big guys on big days out. It's much closer to a motocross bike than it is to a traditional road bike.
The Warrior comes with super thick 4.5″ tires, a really heavy-duty build quality, and quality parts like disc brakes and a nice front suspension. This means comfort over long, bumpy journeys, even laden down.
It can be used with throttle or pedal assist up to 20mph in one more or completely unrestricted if you are on private property. It also has a walk assist mode when you just want to stroll a bit.
You have options depending on what your use of the E-Bike will be. If you just want to get out there, it's good as is. If you're planning long days out hunting, fishing, or overlanding, there are plenty of options to choose from.
Front and rear racks can be added, as well as a couple of trailer options, different heavy-duty bags, or a cooler. You can also mount your hunting tools of choice directly to the bike.
We'd definitely suggest a battery upgrade and a nice suspension seat post, both of which will make your use of the Warrior easier in the long term. A bike rack attaches easily to your truck and folds up out of the way so you can drop your tailgate.
Other articles like this:
– Does Riding An Electric Bike Help You Lose Weight?
Best Electric Bikes For Heavy Riders From Amazon & Walmart
Unfortunately, we wouldn't recommend the type of cheaper Electric Bikes you can get from Amazon, Walmart, or similar. You won't get the type of deals you can get direct from manufacturers or specialists, and you'll probably find the weight ratings aren't accurate.
If it looks to good to be true, it probably is. Most of these cheaper E-Bikes are just a cheap Chinese frame with good paint, plus a generic battery and motor bolted on. Some listings claim very high max weights and high output but in reality, wouldn't pass basic safety checks.
Electric Bike Accessories For Heavy Riders
Every Electric Bike rider should wear a helmet, regardless of your weight. The extra speed means crashes will be harder, and stopping distance increases. Check out our fully featured article on the best electric bike helmets to find something that fits you.
You'll ideally want an NTA 8776 helmet that is rated for electric bikes, and if you're going off-road definitely consider a full-face helmet.