When you've spent thousands of dollars on an E-Bike, the last thing you want is to have it stolen. Whether you're in a city, out in the sticks, or lock up in a secure spot – you need a good bike lock.
Bike theft is especially common with Electric Bikes because they stand out as the highest value target for thieves. Your aim is to have the best bike lock of any bike in the area. This helps to: –
Dissuade any grab-and-go opportunists who will target other less secured bikes instead (it sucks but that's life!)
Make would-be thieves think twice about staying for longer than a minute and attracting attention
Ideally, stop the lock from being broken at all – a high ask but one that's possible with at least one of the locks here
Unfortunately, even good locks get cut. However, the longer it takes and the harder it is to try and cut – the less likely it'll happen.
No time? Our top picks
Best Electric Bike Lock Combo – Kryptonite New York Fahgettaboudit Chain & U-Lock
Best Electric Bike U-Lock – Hiplok D1000
Great E-Bike U-Lock – Kryptonite New York Fahggettaboudit Mini
Types Of Electric Bike Locks
U-Lock – Also known as a D-Lock. Secures the frame to the rack. Can sometimes fit the front wheel and frame too. Portable, easy to set up, and pretty secure.
Chain – Could be a chain with a padlock, or a chain with a U-Lock is better. You can snake a chain through both wheels and the frame, then secure it to the rack. Can be annoying to carry, longer set up time, very secure.
Folding Lock – These are thicker than cables but nearly as flexible, then fold up for easy storage. Very portable, quick, set up, not as secure as you'd think.
Cable Lock – Too flimsy to recommend for expensive E-Bikes, often also have insecure number combo locks. Very portable, quick set up, snakes through everything, very easy to cut.
What Electric Bike Locks Should Have
It's pretty clear we have some favorites. And in fact, we don't recommend any cable or folding locks at all. We've written a whole article (Are Folding Bike Locks Any Good?) about one type, and cable locks are even worse.
For the best electric bike locks, we only recommend a super chunky U-Lock or a chain and U-Lock combo
It's definitely more expensive than a cheap cable. You'll find that the locks can be a significant part of your initial cost in getting an E-Bike. However, if you lose your bike, you've also lost the value of the lock too.
A good lock setup will last forever, and can even be resold for a high price. Think of it like an investment. Many of the high-end lock brands also offer an E-Bike insurance policy that will pay out if the lock is broken.
Double check their conditions and make sure you always abide by them to be included. However, there are actually plenty of stories of people getting paid out for these when their bike was stolen.
For a U-Lock, you'll want: –
Thick Material – The thicker the better
Double Shackle – This means the bolt locks both ends, meaning thieves will have to make two cuts. Thieves know which brands do this so go for single shackles
Good Lock – Something that's not easy to pick
Lock Cover – Rain, mud, and moisture can stop your lock from working!
For a chain lock you want: –
Thick Material – The same goes here. However, make sure they're not too thick to go through your spokes. 14mm is a great size that will still slip through
Cover – Helps stop your bike from getting scratched and can add more resistance
Good Lock – The padlock can be the weakest link in a chain (get it?) setup. A cheap master lock is easily broken or picked. A thick padlock from a good brand or a small, thick D-Lock is much better
Best Electric Bike Lock – Kryptonite New York Fahgettaboudit Chain & U-Lock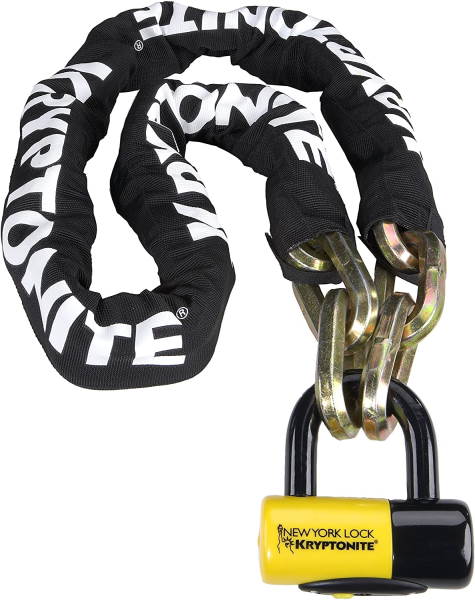 14mm manganese steel links & 15mm shackle
Sold Secure Diamond rating (highest)
Two lengths: 3.25′ / 100cm long (1410) or 5′ / 150cm (1415)
Heavy at 10.8 lbs / 4.91 kg or 15lbs / 6.78kg
With a 14mm thick chain and a 15mm thick Kryptonite U-Lock, this is basically the best you can get as a combo. It uses high-quality stainless steel, a covered lock, dual shackles (lock at each side), plus a warranty, and an anti-theft protection offer.
This will stand up to all but the most determined scumbags. Reviews and theft attempts have shown it does the job. In the rare case that these get broken (all locks will break with enough time with an angle grinder) the anti-theft cover will pay out.
The downsides to this are that it's heavy. Luckily E-Bikes make carrying extra weight much easier. The best way to carry this lock is to wrap it tightly under the seat post and lock it, or keep it in your basket. If you live in New York, wearing it like a bandolier is the style.
The lock itself is small but generally meant only to attach the link of the chain, not the bike to a frame like longer U-Locks. However, the inside measurements of the lock are 2 1/4″ by 2 3/16″ so you could probably get it around some thin E-Bikes.
Be aware that Kryptonite's Anti-Theft protection offer is only free for one year and you must register and comply with all of their terms. It covers up to $4-5,000 of the base bike price. The 3-year cover is $28.99, and the 5-year is $34.99 – which is still very good value.
Top Tip: The price on Amazon is normally about $100 under the retail price, so take a look here first if you're thinking of picking one up.
Best Electric Bike U-Lock – Hiplok D1000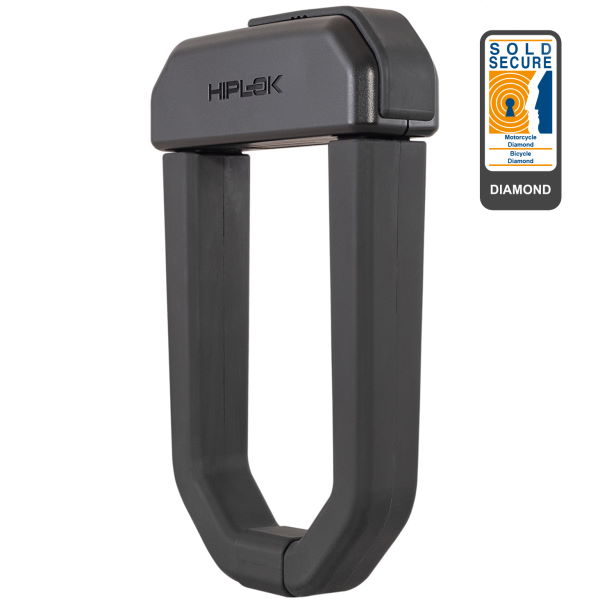 The thickest, highest-rated bike lock ever made
Diamond rated for bike and motorbikes
Made from a new, patented material called Ferrosafe
Essentially impossible to break
Lighter than other U-Locks at 3.97lbs / 1.8kg
Most expensive
Hard to find
The Hiplok D1000 is a long-awaited new U-Lock that's just been released to the open market and is causing a huge stir. It's essentially unbreakable, with multiple videos showing it takes a minimum of 10-15 minutes with an angle grinder and multiple blades to get one side of the lock open.
Bearing in mind it's a dual shackle design, meaning it locks at both sides, means that a minimum of 20-30 minutes of loud work and 6-8 blades to break it. That means it's basically never going to get broken in public.
So for the money, you'll be getting a lock you know could last forever. That's all thanks to a new material called Ferrosafe. It's a graphene reinforced ceramic composite that is "specifically designed to disintegrate angle grinder cutting wheels and carbide tipped drills".
It's heat resistant but can still be welded for construction. The lock itself uses simple, chunky, metal internals for the lock. That means it will last and is resistant to picking. The whole thing is covered in rubber plastic to avoid scratches on your nice E-Bike.
You get three keys and a seal over the lock. The double shackle has anti-rotation so it takes two full cuts to break. It's diamond-rated – the highest rating available – for both bikes and motorbikes.
The only problem you'll have with this lock is finding one. They were pre-ordered in the thousands and most suppliers can't find any to stock up they sell so fast.
Great Electric Bike U-Lock – Kryptonite New York Fahgettaboutit Mini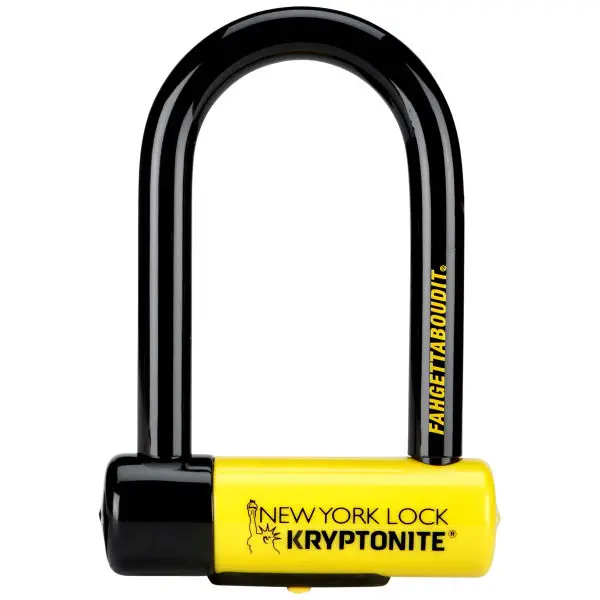 18mm hardened steel
Twin shackle + anti-rotation
Sold Secure Diamond rating (highest)
Slightly heavier than the D1000 at 4.55lbs / 2kgs
If you want a U-Lock but can't afford (or find) the D1000, the Kryptonite New York Fahgettaboutit Mini is a great option. The shackle is a super-chunky 18mm, it's fairly light and easy to carry and store, plus comes with the same Anti-Theft protection as the combo above.
It's smaller than traditional U-Locks because of the thickness, which would leave it much heavier if it were full size. The inner measurements are 3.25″ x 6″ (8.3cm x 15.3cm) so check if you'll be able to get it around your E-Bike frame and pole.
Consider an extra cable that can be looped through the other parts of the bike to dissuade anyone from taking a wheel without some extra work.
How Do Electric Bikes Get Stolen?
Stealing an Electric Bike can cost as little as $5 and 2 seconds. Cheap $20 cable locks can be broken by literally pulling the bike back and forth really hard until the lock breaks. For the cost of a pair of hand clippers, the same cable can be snipped in seconds.
For $50, a good pair of long bolt cutters will take down any cable, most 10mm chains, most folding locks, and some U-Locks. An angle grinder will do the same faster. Most of these can be taken down in less than five minutes or as little as 30 seconds!
Even the thickest locks will be taken down by a good battery-powered angle grinder but will take longer. Chain locks have the advantage or being awkward because they move around and make it hard to cut in just one spot.
How To Lock Up An Electric Bike
Our top tips for locking an electric bike are: –
Choose the right place – If you can, choose a rack that's in front of cameras or in a clear place full of people. Avoid shady alleys or anywhere out of sight.
Check the rack – Racks can be cut and then pushed back into place so a lock and bike can be slid off together and cut in a safer place. Check your rack with a quick few tugs.
Avoid signs/poles – If your bike and chain could be lifted over a sign or straight pole, it could be taken.
Lock right – U-Locks should go around the frame, rear wheel, and the post. Chains should do the same but ideally also get the front wheel in as well.
Lock through accessories – If you slide them through, try and get a chain or cable through your helmet, light, pannier, bag, or any other E-Bike accessories you have with you
Where To Register My E-Bike
Many states and private companies offer a registration system. This is where you can register your bike on an online service with photos, serial numbers, and your information. You'll also normally get sent anti-theft stickers or can use an invisible ink pen to mark the bike with number specific to you.
If your bike gets stolen, you can then report it to the service. This will notify local law enforcement and others to keep an eye out. It can be really handy if you find your bike online for sale to prove it was yours and reclaim it.