Black Friday Electric Bike sales are probably the single best way to get a new ebike at the best price. With competition at an all-time high, this Black Friday is going to feature some great deals.
Last year we found some really good deals and got great feedback. This year we expect it to be even better, with more brands and more bikes available. We've put some deals up now and will be updating this page regularly as we go into Black Friday and Cyber Monday
Bookmark this page and come back over the next few days for more. You can also sign up to our e-mail list on the sidebar or by clicking here for e-mails when the deals hit.
What Electric Bike Brands Will Have Black Friday Sales?
Based on previous years' sales, we're pretty certain most of these ebike brands will have Black Friday sales on. We also expect large online bike retailers to have big sales on traditional and electric bikes. We'll include the best ebike Black Friday sales from them here too.
Popular Electric Bike Brands That Might Have Black Friday Sales
These big brands are less likely to have sales based on past years but still might do deals to make sure they aren't left out.
VanMoof
Brompton
Giant
Cannondale
What Black Friday Electric Bike Deals Are Expected?
A common offer is a straight $100 to $200 off of a new electric bike. A really good discount is somewhere around 20%, but that's rare. 10% to 15% off is generally a very good deal. However, don't expect much more as discounts on ebikes are still very tight because of huge demand.
Sometimes instead of money off, you'll get a free bundle of accessories and upgrades. This could be something like a free pannier rack, upgraded saddle, or just a discount on any accessories you choose.
Will Black Friday E-Bike Sales Be Any Good This Year?
Bear in mind that in the past couple of years ebike demand has shot up as more people want an easier way to get out and enjoy life. At the same time the basic material prices have gone up, as well as manufacturing assembly plants working at reduced capacity as China has a strict health policy.
This has meant a lot of bike and ebike sellers were selling at a premium in the last couple of years, while still being sold out most of the time. Stock seems to be mostly recovered but there are still some supply shortage issues for the basics like steel, as well as the worldwide chip shortage.
When Is Black Friday In 2022?
This year Black Friday is on the 25th of November. It's the last Friday in November and was named because it's traditionally the busiest shopping day of the year. It's the day after Thanksgiving, when many people have the day off and a bit of holiday cash to spend – as well as buy presents for Christmas.
When Is Cyber Monday In 2022?
Cyber Monday in 2022 is on the 28th of November. Generally, the deals aren't any better or different but that's because so much shopping is done online now. Mostly you'll find retailers start sales at the start of November or in the last week before Black Friday, and close sales a week or so after.
Aventon Black Friday Sale
Aventon did a great deal last year and we've confirmed they will be offering another Black Friday deal. For the whole of November you'll get free shipping, and their Black Friday/Cyber Monday deal will be from the 24th to 29th of November.
The deal is simple:
Get $200 off every bike in Aventons range from the 24th to 29th of November
Aventon are consistently one of the highest-rated Ebike producers and offer a great range of models, from city to off-road and everything in between.
Buzz Bikes Black Friday Sale
Buzz Bikes is having another good Black Friday sale, as well as an early offer. Using the code BUZZFAM200 you can get $200 off of any bike in their range over $999.
From Friday 18th use the code BUZZFRIDAY25 off on any order (including bikes and accessories) for a straight 25% off. This will only last for Friday 25th and Saturday 26th.
However, they've also got a Cyber Monday sale where you can save $250 off of orders of $899 or more using the code CYBERBUZZ250. So that code might be better if you're getting the cheaper bike.
Either way, visit the site with this link or click the banner below and use the right code for the job.

Use code BUZZFRIDAY25 for 25% off of everything!
Lectric Ebikes Black Friday Sale
Lectric makes Electric Bikes that are perfect for commuting in and out of the city. Their bikes are all foldable, powerful, and have great features included that normally cost more on higher-end bikes.
They've also just released their new XP 3.0, an upgraded version of the best-selling line of XP's. For Black Friday they've started the sales early. You can get $100 off of the new XP 3.0. XP Lite, and $200-400 off of their older 2.0 or XPremium range.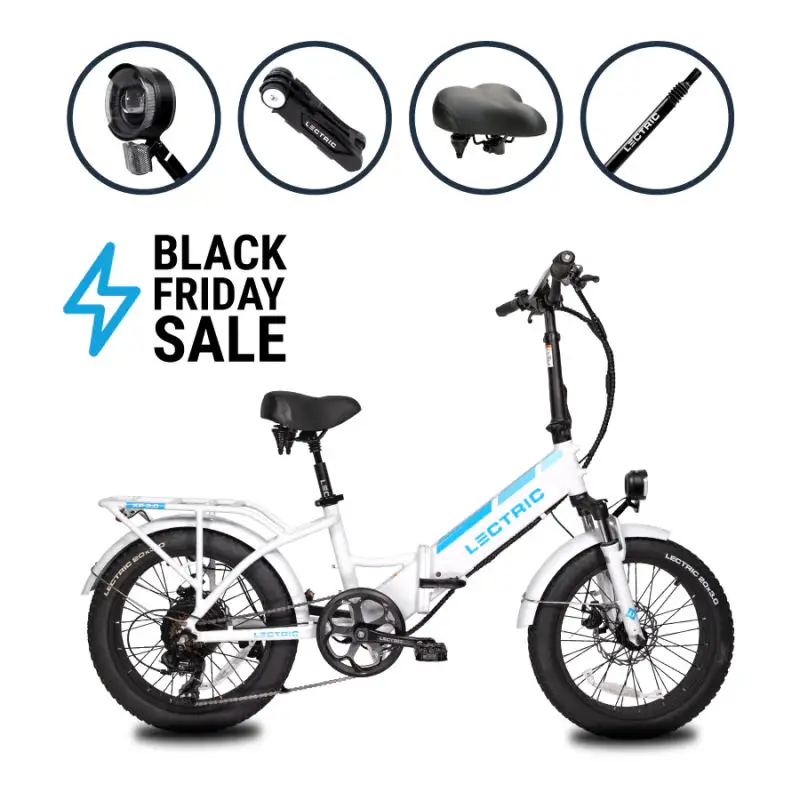 Many bikes also come with a bundle of free accessories for Black Friday. For the XP 3.0 as an example, you get a free front light, upgraded seat and sprung seat post, plus a bike lock. That's $277 of value for nothing.
PLUS – If you're buying for the family, Lectric have a deal where you'll get an extra $100 off if you buy two of XP 2.0. Oh, and there's also 25% off on most of their accessories.
Get $100-200 off any bike plus a FREE accessories bundle
Rad Power Bikes Black Friday Sale
Rad Power make a great range of Ebikes from their Fat Tire ebikes to their Electric Commuter and Step-Thru version, and even a carry wagon style bike. They have a proven track record for good quality and support and are a top brand if you're looking for your first electric bike.
This year's Rad Power Black Friday deals have already started and include a wide range of very attractive offers. Take a look: –
$500 off of a RadRover 6 step-thru or high-step
Save $300 on the RadCity 5 Plus
$100 of on the RadExpand 5 folding bike
$400 off on the RadCity 4
60% off for many accessories
The sale has already started and will end on the 28th or until supplies last. It may end early as it's also started early so get on it now!
Get $200 to $500 off Rad Power ebikes now
Rambo Electric Bikes Black Friday Sale
Rambo make powerful and rugged hunting and outdoor adventure Ebikes with some excellent features and upgrades. This year they are doing a big Black Friday sale and have started early.
Their entry-level Rooster gets $300 off, and you can get a full $1,500 off of their high-end hunting bike the Prowler.
Get up to $1,000 off of a new hunting Ebike at Rambo
Competitive Cyclist Black Friday Sale
Competitive Cyclist are having an early where you can get up to 50% off some big-name brands, or 20% off your cart price on a lot of full-priced items. Use the code 20CART at checkout for the discount.
We also expect them to have a large Black Friday sale shortly as they did last year. Come back to this page for updates.

Check out the Competitive Cyclist sale here
Ride1Up Black Friday Sale
Ride1Up have a great core range of bikes focused on city, commuter, and comfort styles. If you sign up for their email list at the bottom of the page you can get $30 off on your first order.
They've started some early Black Friday sales but we expect them to get better. Right now you can get $50 off the Roaster or Cruiser, $100 off the 700 series, or $300 off the higher-end LMT'D.
Get $50 to $300 off at Ride1Up
QuietKat Black Friday Sale
QuietKat are offering a massive and early Black Friday sale on their outdoors and hunting-focused bikes. You can get $400 off on their pioneer, or $1,200 off their high-end official Jeep ebike.
There are also lots of deals on accessories, including a trailer, solar charging panels, and lights. There will probably be a further sale closer to the weekend.
Check out QuietKat's early Black Friday Sale
Denago Black Friday Sale
Denago make a small range of slick ebikes, from a slim city rider to a chunky fat-tire adventurer. They haven't started their Black Friday sale yet but should have one up soon.
Check out Denago's ebike range
Electric Bike Company Black Friday Sale
The Electric Bike Company is an American ebike maker that hand-builds all of their bikes to order. They make some amazing cruiser bikes that are a dream to ride. You can choose every single color and customise a tonne of options.
We've featured them in our guide to Best Electric Bike For Heavy Riders. They haven't announced a Black Friday sale yet but we expect one soon – watch this space.
Check out Electric Bike Company's ebike range
Ubco Black Friday Sale
Ubco make one type of bike, and it's the 21st century version of a horse. Their ebike is custom-built with a bike adventure game, full suspension, legal for the road but built for herding sheep around in the remote wilderness.
It's a crazy-looking bike and it's used by park rangers, the military, farm workers, and those who are built for adventure. They haven't confirmed an ebike Black Friday deal yet but might well do one, we'll add it here if they do.
Velowave Black Friday Sale
Velowave have a cool range of bikes, from commuters, to fat tire off-roaders, and light-weight track riders. Every bike is on sale right now. The minimum you'll get off is $250 on their Grace step-thru or $450 off of the Ranger fat tire.
The sale is really generous and you can get even better deals on bundles that include kit like lights and seat upgrades. Their Black Friday sale ends on the 30th.
Check out Velowave's Black Friday ebike sale
Wing Bikes Black Friday Sale
Wing made some incredibly sleek bikes. The idea is to build custom frames that house all of the extras like lights, display, and an internal lock and alarm. They look great and perform brilliantly.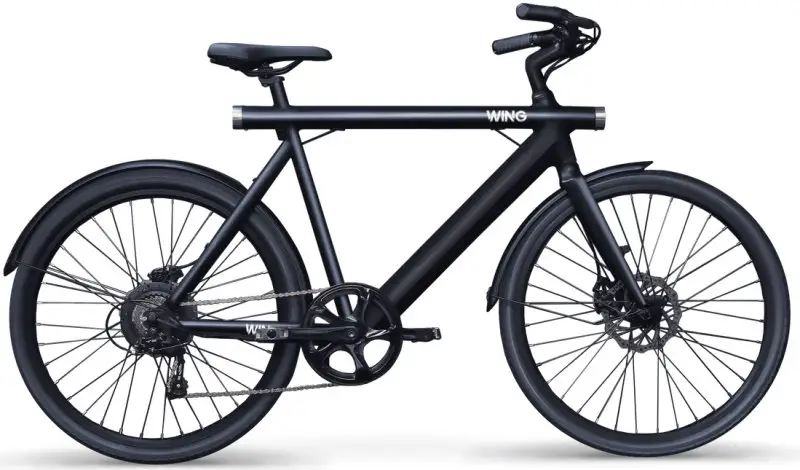 Most are designed for city living so are slim, light, and easy to lock. However, they still have a really nice fat-tire option that has all the benefits but can tackle those windy trails. Their black Friday sale is really good this year.
30-40% off every bike
Free throttle and fenders (worth $120)
Free shipping (normally $80)
Get up to 40% off on Wing ebikes right now
Xtracycle Black Friday Sale
If you're looking for a cargo bike, Xtracycle are your best bet, with a tonne of different options for all uses. Whether it's carrying kids to school, weekend trails, or running a small business, they have you covered.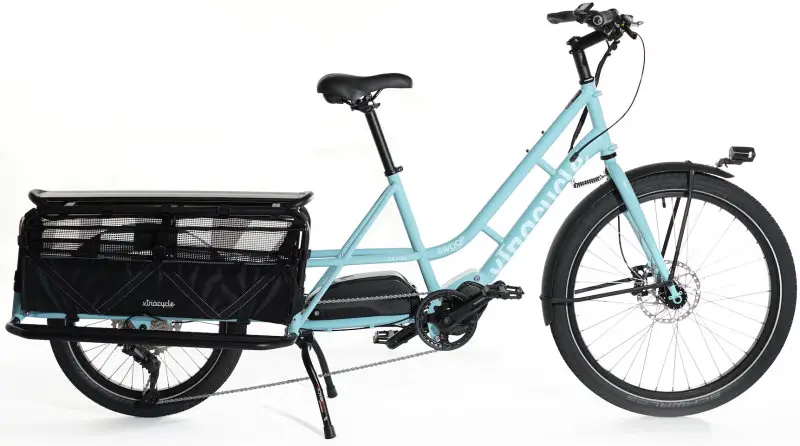 Right now they have a deal where you can get up to $800 of accessories for free! That means a free front rack and bag, rear passenger seat, safety rail, and a carry-away bike backpack. This is all available up until the 25th, so it's more than likely they'll have a further Black Friday ebike sale from then.
Get up to $800 of free accessories with Xtracycle
Jenson Black Friday Sale
Jenson are a bike specialist retailer that sell all types of full bikes, accessories, parts, and riding apparel. They're having a huge Black Friday sale that has started now. We've found a range of electric bikes for 15 to 59% off the full retail price.
Some of these bikes are really high end, from daily riders all the way up to full suspension premium mountain bikes.
Zugo Bike Black Friday Sale
If you want an ebike that's more of a motorbike than a bicycle, check out Zugo's offering. You can get $200-400 off, plus free accessories, and if you sign up to their e-mail list you'll get $50 off on your first order!
Up to $400 off a Zugo ebike until the 30th
Ebike Helmets Black Friday Sale
A couple of our favorite Ebike helmets are on sale during Black Friday with some decent discounts to be had. If you haven't thought about getting a helmet, think twice and consider picking one up in these deals.
These are the helmets we've picked for the best buys from our Best Electric Bike Helmets article. We did some pretty in-depth research for it as ebikes have a new standard specifically for bikes, called NTA8776. Take a look.