With E-Bike technology and brand options improving by the day – it's getting hard to pick a good option. It's taken months of comparison and fact-checking the real stats, but we've narrowed it down for you. Here are our choices for the best electric bike for the money along with a simple e-bike buyer's guide.
First time e-bike buyers can be overwhelmed with choice, technical specs, and brands. We'll apply expert knowledge but give you what you need to know in easy to understand terms.
Just Want Our Top Picks? – Here you go!
These are the absolute best electric bikes you can get for the money for every rider:
Overall Best Electric Bike For The Money – Gazelle Ultimate C380
Best Electric Bike For Commuting – Wing Freedom X
Best Folding Electric Bike – Aventon Sinch Step Through
Best Electric Mountain Bike – Santa Cruz Heckler
Best Cruiser E-Bike – Zooz Ultra Urban
Best Electric Road Bike – Bianchi Aria Ultegra
Best Fat Tire E-Bike – Aventon Aventure
Best Cargo Electric Bike – RadWagon 4
Best Electric Bike For Seniors – RadRunner Plus
Best Electric Bike Under $1,000 – Lectric XP 2.0
Best Electric Bike Conversion Kit – Bafang Mid Drive Kit

How Will You Use It?
The most important thing to know before looking at your options is simple: what are you planning to use the E-Bike for? Some electric bikes are perfect for specific uses, though we do have a few that can get you to work on time and be taken out on the trails.
Range + Battery
While it might seem obvious that the biggest advertised battery size is better – it isn't strictly true. Every battery has a few ratings, normally given in Wh (Watt hours) or Ah (Amp hours) as well as others. We've actually calculated both for every battery so you don't have to.
Read Electric Bike Batteries Explained for a full breakdown
E-Bike Must-Have Features
E-Bikes are essentially a standard bike with a motor, battery, a display, plus the wires that string the electronics together. What you really need is a quality bike with good parts that isn't just slapped together. Here are our must-haves
Normal bike features like quality components that won't break, comfy seat, easily adjustable seat and handlebars.
Quality Motor – A high-powered motor is good, but the wattage (displayed as W) isn't always the same between brands. The build quality of the motor, as well as the position and torque rating, are more important to look at.
Battery Size – Luckily, batteries are a little easier to measure. While cell quality is a factor, the watt-hour rating (measured at Wh) is normally fairly true. If there's no Wh rating, you can figure it out from other measurements given.
Quality Components – Tires, brakes, and suspension all make a big difference to the comfort and safety of your ride.
Good Display – Knowing your speed, cadence, battery left e.t.c is all really helpful. Plus points for backlit, easy access to settings, and phone app integration.
A Helmet – Most bikes don't come with one but we very strongly recommend you wear a helmet on an E-Bike. Take a look at the Best Electric Bike Helmets for the safest picks, specifically rated for E-Bikes.
All of the E-Bikes on our list include a charger for your battery.
Nice To Have Features (But Not Deal-Breakers)
Integrated Motor + Battery – Having a battery in the downtube is more aerodynamic, looks much better, and can be more secure. A motor mounted in the bottom bracket (called mid drive) is more efficient than a rear drive, and can almost hide that the bike is electric completely! However, both add a lot to price and aren't completely necessary.
Acceleration + Response – When pulling the throttle or pedaling it's nice to have a snappy response from the motor. For some it's not a big issue, for commuters and trail addicts it will be obvious and pretty.
Adjustable Stuff – Having a seat post and handlebars that adjust for different heights and riding styles is great. Not just for individual differences, but for changing from a high-seat fast ride to a leisurely sit at the weekend.
Electric Bike Classes – 1, 2, or 3?
Electric bikes are divided into classes in the USA (and some other countries) that refer to top speed and whether the bike can be pedal-assist or throttle. However, most E-Bikes nowadays actually ship with the ability to switch between modes or just allow you to use pedal assist and throttle.
We've noted how each model operates. Pedaling alone is normally fine as the assist levels are great on most models. Adding a touch of throttle as a boost is perfect. If you prefer just using the throttle, we will note this too.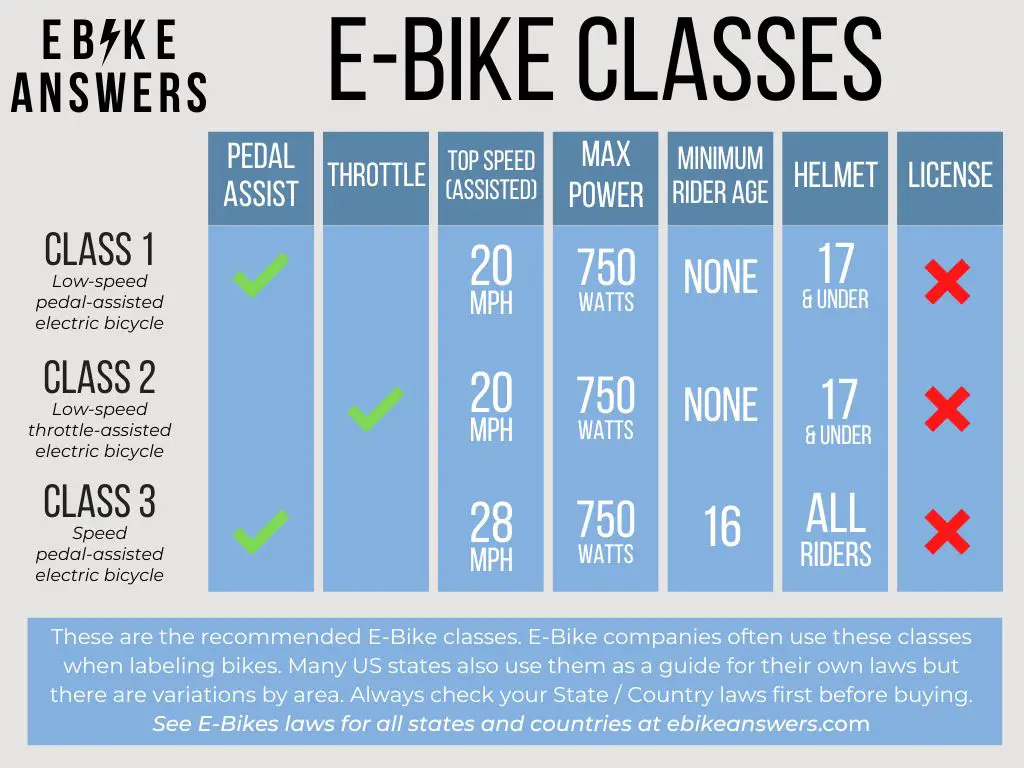 Best Electric Bike For The Money
Gazelle Ultimate C380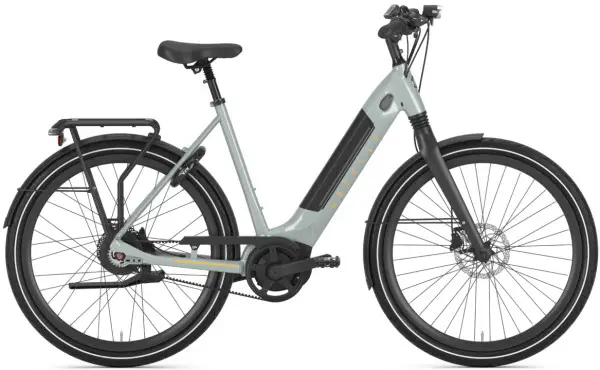 Bosch Performance Motor
Integrated 500Wh / 13.8Ah battery
Carbon belt drive
High-quality, name-brand parts
Disc brakes
High price
Limited availability
The Gazelle Ultimate C380 is our favorite bike for a little bit of everything. Just a great all-rounder that can be used equally well on or off road, and for longer trips or quick jaunts. It's the most expensive in the list but it has a set of features that bring it up to an amazing standard.
First up you have a thin and light but very strong frame with internal routing for the many cables. The Ultimate C380 is a step-through for easy access but the C380 Plus has a full top frame and slightly better suspension.
The motor is the top-of-the-line Bosch Performance mid-drive – the only Bosch motor in this list. That means high-quality internal parts that lead to excellent torque and power at a low weight, all hidden in the frame. The motor is very efficient – pushing 65Nm of torque, and the removable battery is 500Wh / 13.8Ah.
Another big upgrade is the belt drive. Instead of a traditional chain, this uses a Gates carbon belt drive. That means a quiet, clean, light, snag-free, durable chain that won't come off. Once you use a belt chain you'll never want to go back.
You have four levels of electric assist to choose from, as well as throttle and walk assist mode. You also get a rear rack, front and rear lights, fenders, premium Shimano disc brakes, a nice Selle Royal Loire seat, and Schwalbe Energizer Plus 1.75″ tires. All this at under 55lbs.
Overall the Ultimate C380 is essentially the top of the line all-rounder E-Bike but at a really good price point for the parts and build quality. You can absolutely get away with a cheaper bike but this is an investment that will do the job well for years and keep resell value.
Royal Dutch Gazelle is a trusted biking brand. They've been making bikes in the land of cycling – the Netherlands – for over 130 years. Their bikes all come with a warranty (10 years for the frame, 5 for the fork and paint, and 2 for the motor, battery, display, and other parts)
As an alternative at less than half the price – we think the Ride1Up 700 Series fills much the same role but at a higher weight, with a chain instead of a belt and fewer name-brand parts. It's still an excellent all-rounder. Check out the rest of our suggestions for more specific uses.
Best Electric Bike For Commuting
Wing Freedom X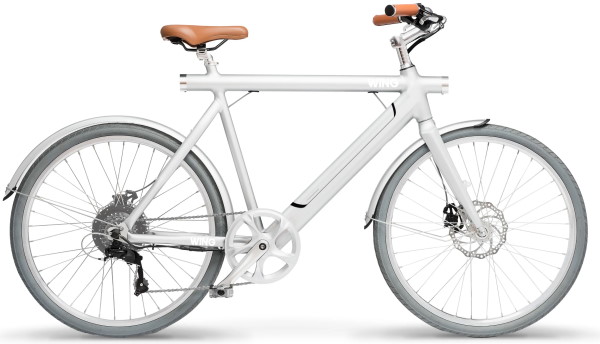 Remote lock and alarm system with tamper detection
Integrated battery and display
Integrated front and rear lights
Super light at 39lb
Throttle and fenders are extra
We love the Wing Freedom X as a cleanly styled city commuter bike that looks great and rides brilliantly. It comes in all-black or white (we love the accents on this one). The pedal assist options are smooth and perfect for nippy navigation.
The design is just super cool, with everything integrated for aerodynamic and smooth city riding. The front and rear lights are in the top tube, the battery in the middle. The cool integrated display is in the steam between the handlebars and tells you everything you need to know.
The base bike comes in at a really great price, currently at $300 off it totals just under $1,300. There are plenty of optional upgrades we'd suggest, including fenders, a throttle, location tracking, front/rear fenders, and a range of larger batteries.
For getting around on a light and nimble bike with a boost on straights, the Freedom X is the perfect partner for city commuting. Light enough to take up stairs, slim enough to fit most places, and cool enough that it doesn't feel clunky.
There are options for the battery from 8.8AH (316Wh), to 10.4Ah (374Wh), then 14Ah (504Wh). There are also other Wing bikes like the smaller Freedom S2, the low step Freedom ST, and the fat-tire Fatty 2 that all feature similar designs with variations based on their use.
Best Folding Electric Bike
Aventon Sinch Step-Through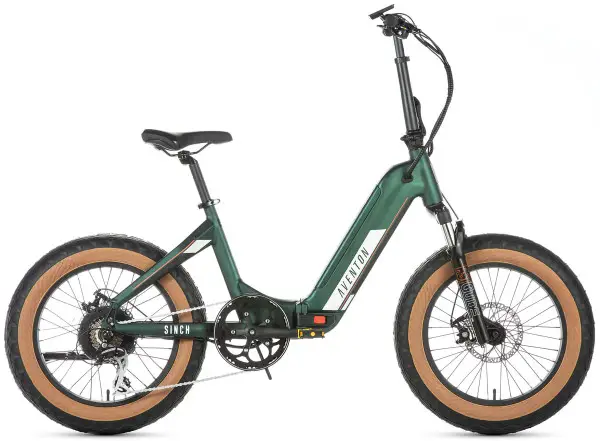 4″ fat tires
Three-point fold
500W Motor
Integrated 14Ah (672Wh) Battery
Rear rack, lights, and fender come separately
If you commute with a mix of transport modes, a folding E-Bike is an amazing idea. It allows you to take the train or bus with your bike right next to you, or store your bike under your desk at work, or in a little cupboard in an apartment.
There are a huge amount of different options available but we think the Aventon Sinch Step-Through is an amazing all-rounder for cities and trails. It folds up to a tiny size, the motor and battery are integrated nicely, and it just looks great.
Some folding bikes are suitable for only short riders, but the adjustable seat and handlebar posts on the Sinch are really well designed. Literally everything folds, including the pedals. The step-through frame is great for easy access but is incredibly stable when snapped together, with no noticeable wobbles at all.
While shipped as a Class 2 E-Bike, it has a throttle and pedal assist that go up to 20mph. You can also edit those setting and up the speed to 24mph in the settings in the backlit display. You can also sync with the Aventon app to change settings, track rides, and connect to the community.
The Sinch is great for commutes, shopping trips, or days on the trail with its 4″ chunky tires and front suspension that will smooth out a lot of bumps. With five levels of pedal assist you can choose your own adventure. An excellent folding E-Bike for a great price.
Best Fat Tire Electric Bike
Aventon Aventure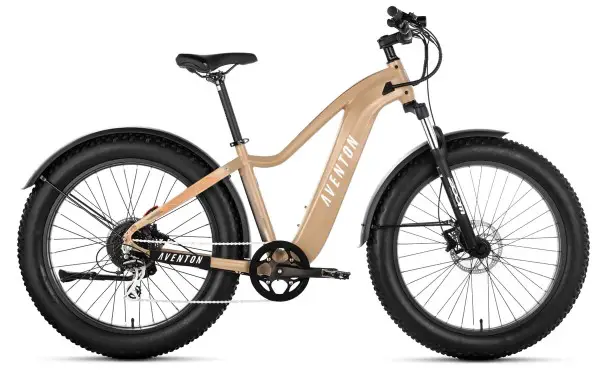 Chunky 4″ tires
Class 2 or 3 – Up to 28mph
Available in different sizes
Also available as a step-through frame
19-53 mile range depending on assist level
Fairly heavy at 73lbs
Rear drive motor
The Aventon Aventure is a capable and rugged fat tire E-Bike that has an excellent price-to-performance ratio. The 750W motor and massive 15Ah (720Wh) integrated battery are the core of the bike, allowing it to push the 4″ wheels up to 28mph with pedal assist.
While the big components are great – so are the smaller details. The full mudguards will absolutely come in handy on muddy trails, the display is backlit and can connect to a phone app.
With front suspension (that can be locked out for road riding) and chunky tires you'll find trail riding fun and comfortable. It also supports up to weight overall. It comes as a Class 2 but that's easily unlockable with the display.
Overall, the bike manages to look great and perform amazingly on trails. For just under $2,000 this really doesn't have any weak areas of note. Aventon also have a decent range of E-Bikes for other uses and decent support options.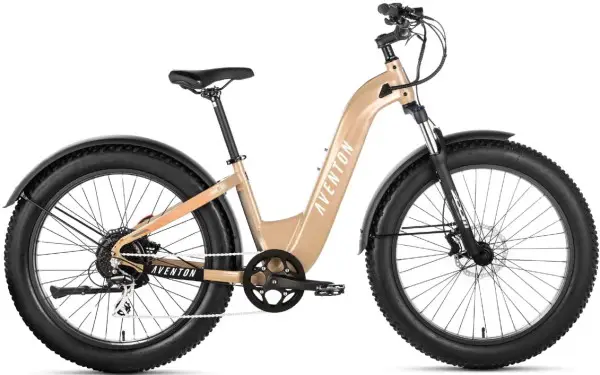 The only real downsides are the weight and the rear motor instead of a mid-drive. However, you won't find many fat tire electric bikes that weigh much less. A mid-drive motor would increase overall power but jump the price up to nearly double.
If you are looking for something with a mid-drive motor, the QuietKat Warrior and Ibex are both excellent options. With high-quality parts, integrated batteries, and huge tires they're built for full days of hunting and overlanding on rugged terrain.
Best Stylish Electric Bike
Zooz Ultra Urban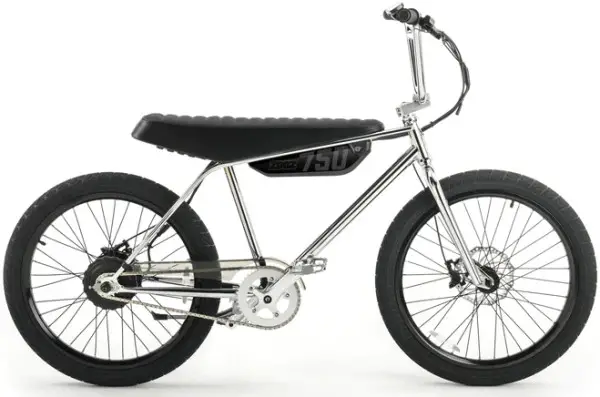 Amazing looks
Pedal assist and throttle
25-40 mile range
Heavy steel (but looks cool)
No suspension
The Zooz Ultra Urban is an amazing retro-styled cruiser that looks like an old BMX but rides like a motorbike. With a long sear, BMX handlebars, and a low-rider style this is unlike anything else out there.
The motor and battery are nicely mounted, especially with the long, plush padded seat that easily fits two. The frame is Chromoly steel, which gives the Ultra Urban its look but does mean the bike is a little heavier than others.
You can buy three different versions, the 250 (630Wh battery, 250W motor), 750 (840Wh battery, 600W motor), and the 1100 (1092Wh battery, 750W motor). They all come as class 2 with throttle and pedal assist, though can be 'uncorked' for a higher top speed.
The lightest has 2.1″ tires but the top two have 2.4″ for a little more cushion on bumpy rides. The design is streamlined and the motor and battery are powerful that you'll feel the acceleration on the top level of assist.
For cruising with style and turning heads while enjoying the speed of a motorbike, the Ultra Urban is one-of-a-kind.
Best Cargo Electric Bike
Rad Power Rad Wagon 4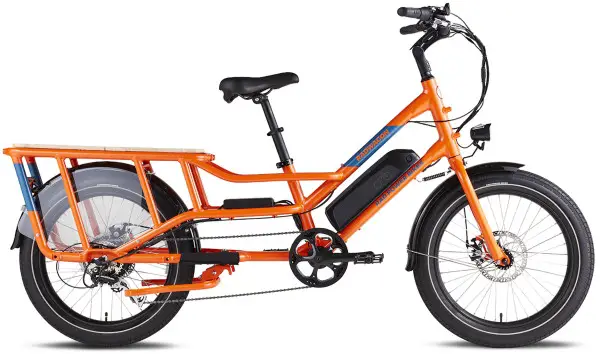 Powerful 750W motor geared for pulling power
Adjustable handlebars and seat post for all heights
Integrated front and rear lights
Pedal assist and throttle
Various kits for passengers, kids, commuting, or carrying cargo
Battery isn't integrated into frame
If you're after a bike for hauling cargo around for your small business, making deliveries, picking up your toddlers from school, or taking the kids out on day trips – this bike does it all.
The Rad Runner 4 has won awards as one of Rad Powers (many) best sellers, with upgrades and tweaks throughout its versions.
The main reason it works so well is a simple, well-designed frame, and a modular set of optional extras. You can choose from a wide variety of front and rear panniers, racks, seats, a long bench, extra handles, sideboards, and more. You can either choose a package for kids, delivery e.t.c, or your own options.
The base bike has high-quality components that include disc brakes, a 750W motor, and a 14Ah (672Wh) battery. They're recently upgraded to small 22″ by 3″ tires that keep the center of gravity lower, meaning better balance – essential for cargo bikes.
The motor is tuned for torque to help start from a standstill, and the seat post and handlebars are adjustable. This and the 350lb carrying capacity makes the bike suitable for all heights and builds. Handy when it's used by many people in a family or a small business.
There are a fair few competing options on the market for cargo bikes but the Rad Runner 4 does the most at the best price. If you're looking for something a little smaller and more agile – the RadRunner 2 or RadRunner Plus (with front suspension) are excellent. So much so that…
Best Electric Bike Under $1000
Lectric XP 2.0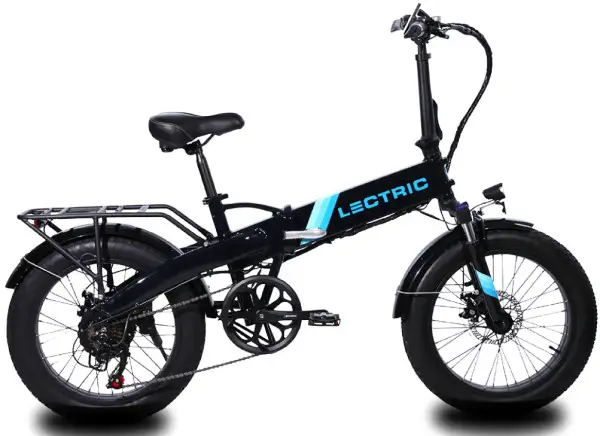 Front suspension
Fully folding
3″ fat tires
Includes rear rack, fenders, front and rear light, mirrors, and a bike lock
Battery can't be removed
Fairly heavy at 64 lbs
For under $1000 it becomes much harder to get the same motor, battery, and quality parts as others on this list. However, there are still a couple of decent options. Right now, the Lectric XP 2.0 is on sale at $999 and comes with a headlight, mirrors, and a bike lock thrown in for good measure!
For under a grand you're getting a full-power 500W motor, a 9.6Ah (460Wh) battery, plus quality parts like disc brakes, a wide saddle with an adjustable sprung saddle, and adjustable handlebars. The XP 2.0 comes as Class 1, 2, or 3 with five levels of assist plus a throttle.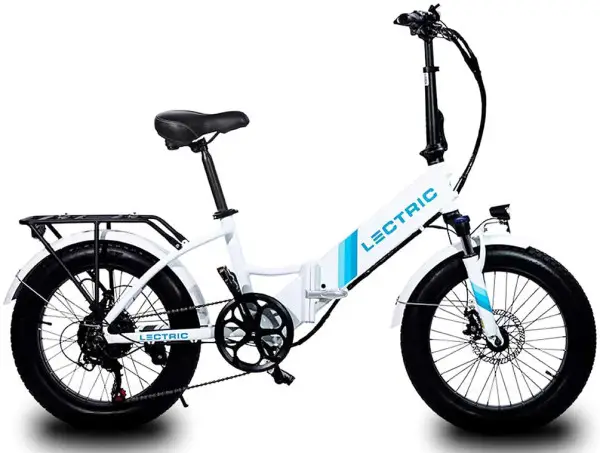 Lectric does full real-world range testing, claiming 17 miles at the highest pedal assist, 20 miles throttle only, and 45 miles at the lowest pedal assist. That means you're very likely to get the mileage quoted.
Somehow this bike manages to give you all the features you'll need on an E-Bike: quality components, great extras like a rear rack and fenders, plus it also folds up to sit in your car or storage. It ships free and is fully assembled, though does need the tires to be inflated.
The only reason you're getting this deal right now is that Lectric is upgrading their entire range. Until then, you can get a great deal on a very popular E-Bike that still ticks all the boxes!
Best Electric Mountain Bike
Santa Cruz Heckler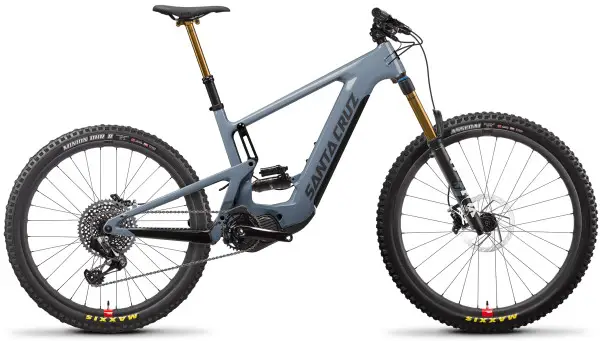 Under 22kg / 49lbs Carbon frame
Highest quality parts
Full front and rear suspension
15Ah (720Wh) battery
Shimano Motor
Sell out fast, often on back order
Mountain Bikes cost a lot, EMTBs cost even more…
If you're addicted to the trails and you're ready to make the switch to electric – here's the E-Bike for you. The Santa Cruz Heckler is fitted with top-of-the-line parts and features an incredible suspension system that will absorb basically anything you throw yourself at.
There are a few options to choose from but the base build has a 29″ front tire and 27.5″ in the rear – there are double 29″ options. This setup works great given the low center of weight. The battery is 720Wh and hot-swappable, but one alone is enough to last a full day.
The gear system uses the SRAM NX Eagle parts that hold up through hellish abuse. The motor and crankset are the latest Shimano setup and deliver a huge amount of power – 70Nm of torque in fact.
You can adjust through different modes on the fly, making it easy to catch up with friends or go full human-powered. The motor is primarily to be used with the different pedal assist levels, without a throttle available. There is a walk mode for light assistance when you are off the bike.
If you've not seen Mountain Bike prices, you might be shocked. However, this is actually on the lower end of enthusiast eMTB prices. Compared to other options on the market right now that offer similar quality and ride, this is an incredibly good electric mountain bike for the money.
You can choose from different tire and frame sizes, the C (good quality carbon) or CC (lighter carbon, same strength) frame, and there are some component options. However, in any configuration, the Santa Cruz Heckler is a class act.
Best Electric Road Bike
Bianchi Aria Ultegra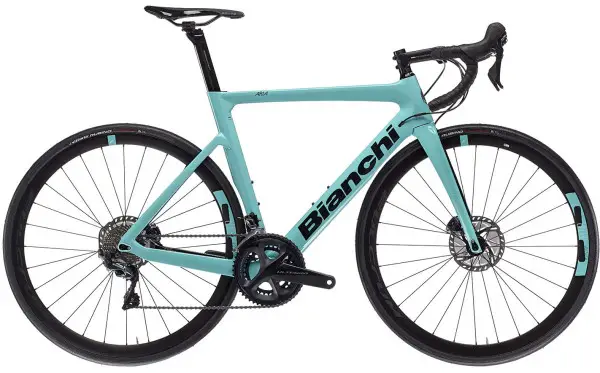 Superlight carbon frame
Hidden internal 250W battery
Shimano Ultegra Components
Rear hub drive – Blends in perfectly
Two sizes of frame
Pedals not included (standard for road bikes)
If you're into road biking or want to get out with friends who've been doing it for years – don't be afraid of getting an electric road bike. The Bianchi Aria Ultegra is amazing at blending in and doesn't look at all like an electric bike as the entire battery and motor are essentially invisible.
Everything is the same as a standard high-end road bike, with high-end Shimano Ultegra parts – including the derailleur, crankset, cassette, and brakes. The pedal assist is really easy to use with a simple single button to cycle through the modes.
You can ride without any assistance if you'd prefer to and the weight and handling make it no different from a standard road bike. However, the motor assists you up to 20mph – from there it's all you. With the Aria Integra, you'll be riding in style on those big days out.
Best Electric Bike For Seniors
Rad Power RadRunner Plus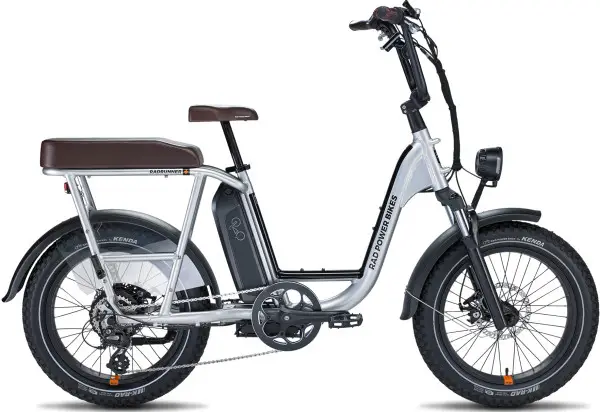 Low-step frame (16.5″ from ground)
Works for a range of heights (5'4″ to 6'2″) and sitting positions
Carries up to 300lb total
Various kits for passengers, kids, commuting, or carrying cargo
Fairly heavy at 77lb
External battery
There are plenty of good reasons why you'll see Rad Power bikes and all versions of the RadRunner out there. The key one is that they've been around a while, and keep innovating. Another is their customer service.
In fact, they're so proud of their bikes they have a 14-day free trial and a free 1-year warranty. The RadRunner Plus is the latest upgrade in the Rad Runner line, with a similar low step-through frame, but a few excellent new features.
First off is the front suspension that isn't present on the Rad Runner 2. This paired with the small 20″ tires (3″ thick) mean the ride is comfortable on rougher trails and super smooth on the road.
On the front, you have a big LED headlight, plus an integrated taillight with brake indication or a flashing mode. Disc brakes mean safer stopping in poor weather, and the handlebars and seat post are adjustable – which will come in handy for another plus.
The seat is plush leather, and this model comes with a long passenger seat. That means you can lower the seat, and slide back to use both – moped-style. There are also footpegs, plus a see-through wheel skirt on the rear. That means carrying a passenger is comfy, safe, and mud-free!
In terms of power and control, you have a beefy 750W motor, the same 14Ah (672Wh) battery as the Rad Wagon cargo bike, plus a 7-speed drivetrain. You have five modes of pedal assist and a half-twist throttle (half of one handle) to add a boost.
Overall the RadRunner Plus is our pick for the best electric bikes for seniors by a wide margin.
Comfortable to ride with suspension and saddle options
Stable because of low center of gravity, small but thick wheels
Can handle trails and roads
Easy to get on and off
Good safety features – Lights, disc brakes
Pedal assist and throttle
Big battery so you won't run out
We really don't think there is much out there that manages to be as comfortable and easy to access at this price point. Adding on a center storage console, passenger handles, or racks and panniers take this to another level of convenience.
The RadRunner Plus gives you a bike suitable for breezy shopping runs, taking the grandkids out for the weekend, and leisurely exercise out in nature. Combine it with an electric bike rack with a ramp and you might find life got just that little bit better.
Best Electric Bike Conversion Kit
Bafang Mid Drive Kit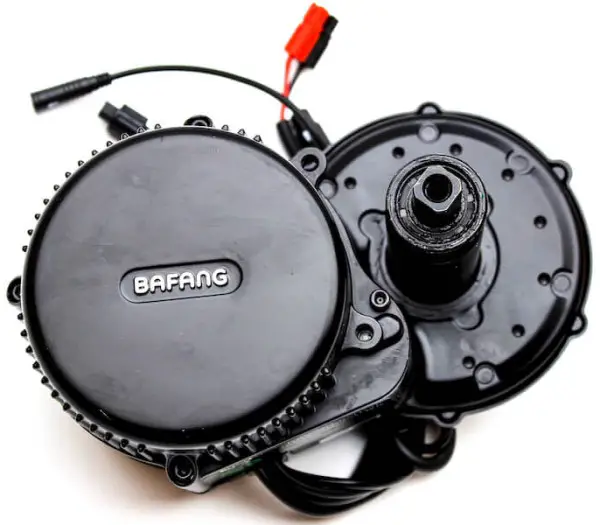 750W Mid Drive Motor
Battery, display, wiring, and brake lever/sensor are all included
Only fits certain bikes
Takes some work to fit
As an alternative to spending $2,000 and up on a decent E-Bike, or $1,000 on a real budget, you can spend as little as $500 on full
Bafang are the big name in electric bike motors. They make kits for anyone to convert their own bikes as well as making a massive amount of motors used in E-Bikes. It's to the point where we actually don't recommend any motor that isn't a Bafang as most are actually just rebranded versions.
This Bagfang mid drive kit is the BBS02, which is built to fit 68-73mm bottom brackets. It's also not suitable for carbon frame bikes or bikes with coaster brakes. With this you can take any cheap, heavy bike and turn it into a powerful E-Bike on the cheap.
You can also get rear drive and front drive kits, but if you have the tools and are willing to put in some work – the mid drive is the best option. There are also plenty of videos available on youtube on how to install the full kit that are easy to follow.
This kit is the newest 750W motor that has a range of included batteries to choose from. You can also choose from an array of displays and kits that will fit all sizes and configurations of chainrings.
---
What Else Do You Need?
If you only get one accessory, get the Best Electric Bike Helmet. If you want to protect your investment as well as your head, read our article Do You Need Insurance For Electric Bikes to find out how insurance can cover accidents, theft, and more.
We hope you've been able to pick the right E-Bike for you, or at least narrow it down a little. Again, the best electric bike for the money really depends on your usage so keep that in mind!