If you live near the coast, one of the nicest experiences you'll have is riding down the beach – not next to the road. However, a lot of bikes just don't work great on sand. These are the best electric bikes for beach sand and beachside cruising!
The biggest problem with riding on the sand is stability. With thin tires, it's hard to get enough grip on the sand. You'll find the front wheel getting stuck and your front end wiggling out of control.
That makes it almost impossible to keep the wheels turning, even with all of your effort. It's important to just keep pedaling and keep a steady rhythm, but Electric Bikes made that way easier by doing most of the work.
Can Electric Bikes Ride On Sand?
Yes, any type of Electric Bike can ride on sand – though fat tire E-Bikes will always perform the best. Thin tires are a problem when riding on sand because of the lack of grip. Wider "fat" tires mean more contact with the floor and more stability.
Electric Bikes also have the added bonus of being able to power through places you'd normally get stuck. A constant speed is one of the keys to riding through sand.
We've found some great models that are perfect for cruising along beaches and beach walks. These are the best electric bikes for beach sand and cruising – with some amazingly cool looks and fun extras!
No Time? Our Top Picks
Best Electric Bike For Beach Sand Riding – RadRover 6 Plus High Step
Best Electric Bike For Beach Cruising – Electric Bike Co Model R
Best Folding Electric Bike For The Beach – Rad Power RadExpand 5
Things An E-Bike Needs To Ride On Sand
Here are some of the most important things an E-Bike built for the san should have, plus a few things to take into consideration.
Wide Tires – Often known as fat tires. We'd suggest 3 inches minimum, but the wider the better for pure sand riding.
Fenders – When sand is flying everywhere, fenders will really help to avoid it getting into your battery compartment, motor, gears, and suspension
Lower Weight – Though this is offset by having an E-Bike, a more lightweight model will always have the advantage over heavy models
High Torque Motor – All of the E-Bike models we've suggested have motors that are plenty beefy for pushing through sand. However, if you have the oppounrtity to go for a higher-watt model, go for it.
Higher Power Battery – A bigger battery means longer range, but a higher voltage motor means more power delivered – meaning more torque overall. Read our guide to Electric Bike batteries for a fuller explanation.
The last thing you need to know is that you should always clean your Electric Bike after riding through sand. We've got more on that below. But first, here are our favorite for beach riding.
Best Electric Bike For Beach Sand Riding
RadRover 6 Plus High Step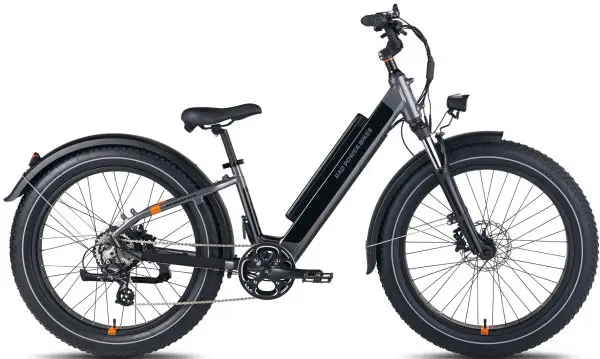 750W Motor -Pedal and/or Throttle
4″ tires with puncture-resistant liner
Comes with front and rear fenders
Front and rear lights
Step-Thru Frame
Front suspension for a comfy ride
Rad Power make a great range of bikes, to the point where we recommend one of their models in almost every buying guide we've made so far. The RadRover 6 Plus is their newest model, and the Plus version has a few upgrades to the battery and motor that make it worth than worth the price.
The 4″ tires on this will make quick work of sand, and the 750W motor is deigned for steep hills and challenging terrrain. The battery than comes with this model comes in two options – 589 and 672Wh – that are both generous for the price.
The big thing about Rad Power bikes is the general quality of all of the components. It's not often you'll get good in-house part, Kenda tires, and extras like the front and rear lights for this price.
As a beach bike, a weekend trail runner, or a day to day get-around, the RadRover 6 Plus does basically everything. It's also currently on a steep sale with up for $400 off for a limited time!
Best Electric Bike For Beach Cruising
Electric Bike Co Model R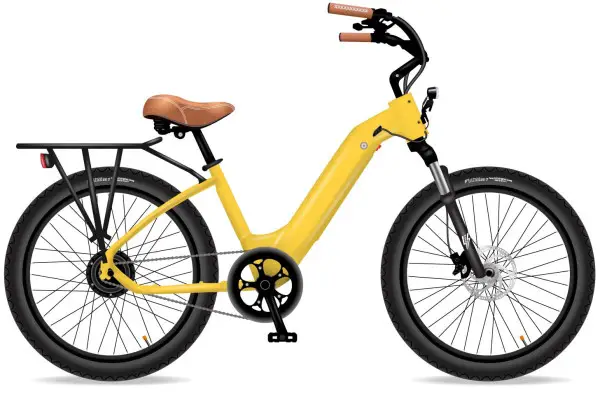 750W Motor – Class 3 Pedal and/or Throttle
3″ Wide Antipuncture Tires + Double Walled Rims
Pedal Assist + Throttle
Adjustable Front Suspension w/ Lockout
Step-Thru Frame
Made In The USA
The Model R (for rugged) is an American made E-Bike that is totally designed for beachside cruising. The 3″ tires will give you the grip, while the beefy battery and motor bring the torque and power to glide along sand.
The looks are classic but you can also customise the bike to your exact fit. There are 40+ colors to choose from for the frame, plus loads to choose for many of the other parts. There are also plenty of upgrades available – the one we'd definitely recommend are the front and rear fenders.
With a drop frame it's easy to get on and off. The big is rated for up to 380lb / 172kg so makes our list for the Best E-Bike For Heavy Riders. It also has a rear rack included for carrying food for the BBQ or a six-pack.
This bike is slightly better as a beachside cruiser or used on hard packed sand – but will still pull it's weigh on all sand. For a leisure boardwalk ride or a beachfront adventure the Model R is an amazing pick that will turn heads.
Best Folding Electric Bike For The Beach
Rad Power RadExpand 5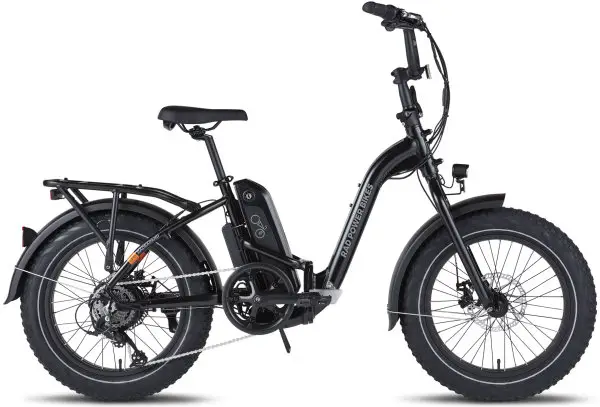 750W Motor
4″ tires with puncture-resistant liner
Pedal Assist + Throttle
Folds up to half it's size
Step-Thru Frame
Made In The USA
If you don't have the space to store a full-size E-Bike in your garage, or you don't have/want a electric bike car rack, we've still got you. The RadExpand is essentially the same as our top pick – the Rad Rover 6 Plus – but with a folding frame.
It has many of the same specs like a 750W motor, 4″ Kenda tires, a big battery, the lights, plus a pre-installed rear rack. The only real difference is the frame is folding. It folds in the middle and at the handles, meaning you can roll it around by holding the saddle or rear rack.
The benefits of this are pretty obvious, but it means you can chuck this in your car and get out basically anywhere without needing a rack. You can also store this in a smaller space if you have a beachside condo or won't use it often.
Having an Electric Bike for riding on sand that doubles up as a folding city model is a bonus. Again, Rad Power are currently having a sale which take $200 off of this model!
We hope this article has made it a little easier to choose a good Electric Bike for the beach and riding on sand. If you want to take a look at some more E-Bike buyer's guides, check out these articles.
– Best Electric Bikes For Heavy Riders
– Best Electric Bikes 2023
Are Electric Bikes Allowed On Beaches?
In most areas, there are no restrictions on having E-Bikes on the beach. If you are allowed to take a normal pedal bicycle on it, then an E-Bike should be fine. Some specific places
However, some specific beaches have banned them. It tends to be in retirement areas where a lot of people are worried there will an accident because of the lack of noise and extra speed. To date though, we can't find any real reports of accidents or problems.
How To Clean Electric Bikes After The Beach
After a beach ride, the tiny gritty grains of sand get everywhere and can push their way into the delicate components of your E-Bike easily. On top of that, exposure to salt water corrodes steel fairly easily over time.
To keep yours in top condition, make sure you give your E-Bike a good hosing down or a brush over with soapy water after each ride. Avoid soaking electric parts, instead just wipe these areas down with a slighty moistened towel or sponge.
You can also use a brush or canned air to get sand out of hard-to-reach places. Remember to get the chain, brake pads, and under the fender too! A cheap cleaning kit will have all of these tools, plsu specific kit for cleaning your chain faster without getting grease everywhere.
Trick To Riding Any Bike Over Sand
If you have a standard or electric bike already and don't want to switch to a fat tire E-Bike, we have a tip that'll help. Let some air out of your tires. It doesn't have to be much, and shouldn't be enough that your tire sags.
A completely full tire will ride much faster on hard concrete or paved surfaces, but has less grip. Especially on rough or soft terrain. Let just a little air out and lower your tire pressure and there will be more surface area for the trie to make contact with the sand.