Electric bikes are amazing for big off-road and trail riding days. But if you're having trouble mounting yours on your car, you should try an electric bike rack with a ramp. We've taken a look at all of the options and lined up the best on the market for you. Search no further!
Why Do Electric Bike Racks Need A Special Ramp?
Electric bikes don't need a completely new design for their bike ramps, but they do need to handle higher weights. That means some designs just won't hold an E-Bike, and without a ramp it can be really tricky to load one.
Most traditional bicycles weigh 18 to 32lbs (8 to 14.5kg), depending on materials and use. You can definitely get big beach cruisers that hit up to 34 or 40lbs. Recumbent bikes can hit up to 70 or 80lbs.
Most electric bikes weigh a lot more thanks to increased frame density, plus a motor and battery, with additional electric systems and wires on top. That means most electric bikes start off at 40lbs minimum, all the way up to 80lbs!
50-65lbs is the most common range you'll see, meaning lifting an electric bike is like picking up a 9-year-old. It's not all that easy to lift an E-Bike into place and secure it with one hand, so a ramp makes this task easy.
No time to read?
The best electric bike rack with ramps for all different purposes
65lbs or less E-Bikes – Saris Door County 2-Bike Hitch Rack
Great Alternative – Thule EasyFold XT
Best rack for heavy, fat tire E-Bikes – QuietKat QK1Up Bike Rack + Ramp

What Do Electric Bike Racks Need?
There isn't much any fundamental difference in the design of the rack, just a few extras you'll either need or want to consider. You're also here for a rack with a ramp, or at least an easier way of mounting your heavier E-Bike, so every option here fits the bill.
Higher weight limit – Check your E-Bikes weight first. We have racks here that will take 60lbs per slot, all the way up to 75lbs if needed. Higher overall weight is also important for a family of electric riders.
Ramp – We've only listed racks that have a built-in ramp, lift, or an add-on ramp you can buy. This list focuses on the ease of getting your E-Bike on and off of your car so you don't need to struggle.
Safe – Strapping thousands of dollars to your boot and hoping for the best won't cut it. You need something you can trust to attach securely to your hitch without wobble. Plus the right straps and fasteners so you don't accidentally cause an accident!
Secure – You also want your bike to be easily lockable, to avoid theft. The rack itself also shouldn't be easy to remove without a key or another deterrent.
What Size Receiver?
The bike racks we're recommending will all need a hitch receiver for attaching the rack. Some cars have them, some don't. You can get them installed at a local garage pretty easily, or even do it yourself if you have the know-how.
There are a few sizes of receivers. The receiver is a square hole that is either 1.25″ by 1.25″, or 2″ by 2″. You can also get 2.5″ or 3″ but they're not as common. Generally, a 2″ receiver is stronger and can hold more weight. If you have the option, choose a 2″ receiver.
Why No Roof Or Trunk Racks?
Same with trunk mounts, E-Bikes are simply too heavy to be carried without using a hitch receiver. A roof rack could topple over and cause an accident. A trunk or rear rack could pull away too. It's not worth the risk.
E-Bike Overweight – Remove The Battery!
This is actually a tip we recommend most of the time when traveling with an E-Bike on your car. Taking the battery out will reduce the overall weight on the back of the car. That means your rack will last a little longer over time.
Most batteries weigh 6 to 20 lbs on their own, so taking one off of a 70lb E-Bike means it could be light enough to fit every rack on our list. Check the specs on your bike to find out if this works for you.
Best Electric Bike Rack With Ramp
Saris Door County 2-Bike Hitch Rack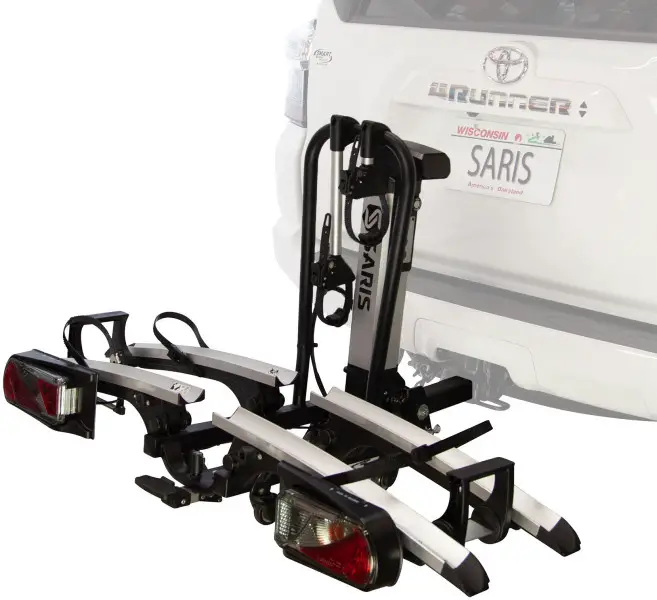 60lbs per bike – Holds two E-Bikes
Designed for E-Bikes
Works with up to 3″ tires
Integrated locks, brakes, tilt, wheels
Locking straps
Expensive
Won't work as well on higher vehicles
An ingenious solution that makes loading your E-Bike even easier than using a ramp. Why not use what delivery drivers use – an integrated lift assist that drops the whole rack down to curb level.
The Saris Door County has a simple-to-operate control box that locks with a key. Once it's on, you simply press up or down just once for the entire thing to lift up or down to the floor.
This drops about 16 inches so depending on the car that could be right to the floor or to curb height. From there it's a simple low lift you could do one wheel at a time. Many of the reviewers of this are older and find mobility an issue, so this has worked perfectly for them.
One of the limitations to this is the maximum weight per bike of 60lbs. For example: in our recent Best Electric Bike for Heavy Riders, the Model R from the Electric Bike Co would fit happily at 52lbs with 3″ tires. However, the big off-road QuietKat Warrior at 70lbs and 4.5″ tires wouldn't.
There are a bunch of great features, including tiny wheels underneath the rack. The rack also folds up to 12″ by 27″ by 28″ and comes with a cover. That means you can detach this and roll it away into a space in the garage easily.
There are also full, integrated lights on the rear with indicators and brake lights. The rack also drops back for access to the rear of your car by tilting with a foot-press.
The bikes secure at the bottom part of the wheel with a locking ratchet strap. There are also moveable arms for attaching the middle of the frame, again using a locking ratchet strap. Everything uses the same key for ease, including the 2″ hitch which locks.
The Saris Door County is the Cadillac of bike racks. If you have the right car that's low enough, you should be able to roll your bike onto the rack straight from the floor. At worst, you'll need to lift your bike a few inches up, wheel by wheel.
For anyone with mobility issues or that doesn't like lifting 60lbs every time you want to get out on the trails – this is for you.
The installation can be done easily without lifting if your hitch isn't more than about 13-14″ from the floor, and the plug is fairly close to the hitch. If not, you may need an able-bodied person to fit it if you have a high vehicle as it weighs 63lbs total.
You could also pay someone for the 10 minutes it will take. Luckily, there's a full installation video here (or the above video) and the manual includes a paper guide. Your vehicle will need a standard 7-pin (blade) connector port to power it.
Great Electric Bike Rack With Ramp
Thule Easyfold XT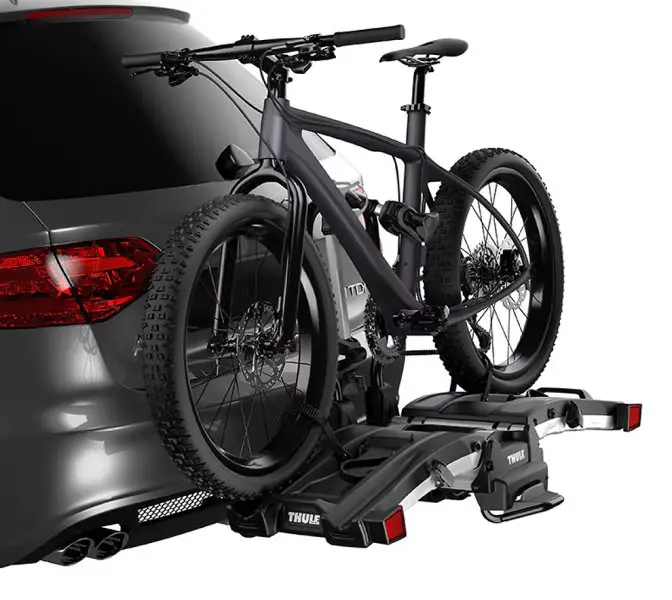 65lbs per bike – Two E-Bikes
Designed for E-Bikes
Works with up to 3″ tires
Integrated locks on bikes and receiver
Integrated ramp
Folds away, wheels for moving on ground
Well thought-out features
Expensive
Might need extended ramp for high vehicles
The Thule Easyfold XT has basically everything we'd want in a perfect E-Bike rack. If you have a couple of E-Bikes with up to 3″ tires, that weigh 65lb or less – it's an excellent choice that shaves $300 off of our top pick.
Loading is easy with the ramp, the bikes and hitch lock with the same key, the straps secure out of the way when you're loading, then sinch tight when you're done. On top of all this, the whole thing is easy to fit and take off, with little wheels to roll it away like luggage.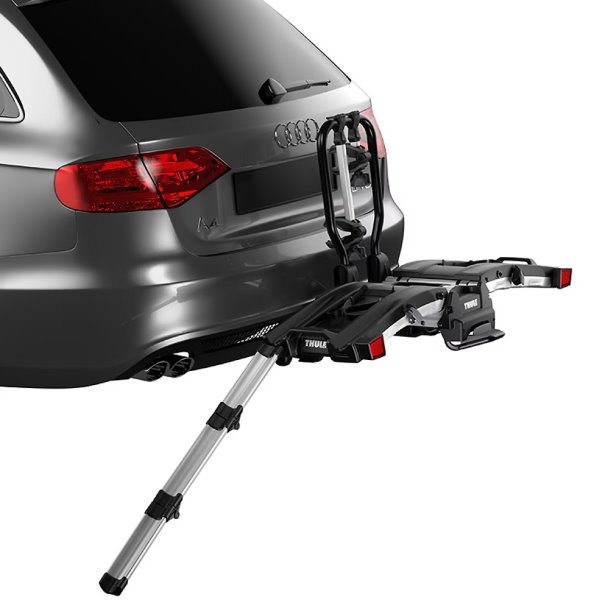 The integrated ramp on the Thule Easyfold XT
The ramp is good and wide and feels really solid when attached. It folds and stows away in the center. It makes loading heavy E-Bikes simple – as long as your car is fairly low to the ground.
If your receiver is higher than about 14-16″ from the floor, it's a little bit of an angle but still doable. If that is a problem for you, Thule sell a separate extended ramp that makes it much easier to roll a heavy E-Bike onto a tall car.
The extended ramp is definitely worth it if mobility is an issue – though do note it has to be carried in the vehicle, it won't fit in the stowage slot as the normal length. Not a big issue though.
The wheelbase has two grooves for skinny wheels or up to 3″ tires. There are optional straps for really big wheels.
In terms of stabilizing and locking the bike, this rack is versatile. The straps at the bottom cleverly hide away so it's easy to load without the faff. The arms at the top can be moved or removed for ultimate flexibility.
The locking arms have a mechanism that shows (with a click) when the clamp is at the perfect tightness so it doesn't damage your bike or let it go too loose. When out of use, you can fold this up to a middle position on the car or leave it in the boot or a closet because of its small stow size.
There is an easy-to-use foot pedal that can be opened with your knee, which drops the bikes back nice and low. This means access to the trunk is easy for everyone.
The rack supports both 2″ and 1.25″ receivers with a clever aluminum part that comes included. The receiver hitch itself has a very good anti-wobble mechanism via an adjustable wedge. It's also lockable with the same key.
The only downsides to this rack are that the arms do touch the bike so might scratch very sensitive finishes. Overall, the EasyFold XT is a very accessible E-Bike rack with a ramp. It's faff-free and will make it very straightforward to load and unload bikes.
We've compared it to its closest competitor E-Bike racks with ramps – the Yakima OnRamp and the Kuat NV 2.0 – and found the Thule Easyfold XT is the best for ease of use, loading via ramp, and overall security.
Best Fat Tire Electric Bike Rack With Ramp
QuietKat QK1Up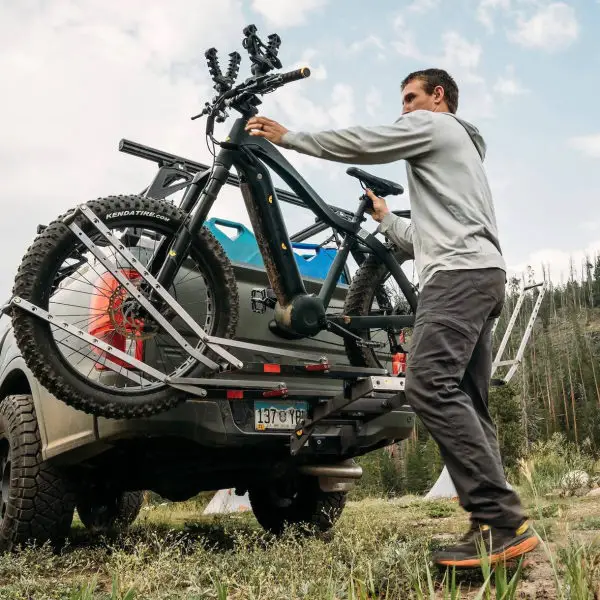 75lbs per bike – One or two E-Bike versions (add-ons available)
Designed specifically for fat tire E-Bikes
Works with 3.1″-4.9″ tires
Very secure, heavy-duty design
Only touches wheels, not the frame
Folds down for trunk access
Ramp sold seperately
Must buy add-ons for extra bikes
The Quietkat rack is actually a branded version of the insanely popular 1Up Super Duty Rack with the fat tire spacer kit pre-installed. This is by far the best fat tire E-Bike rack that you can order online today. The construction and quality are second to none.
If you've been at a trailhead parking lot recently, you'll have seen one of these. Most likely with a burly off-road E-Bike loaded up.
Everything is made of aluminum, meaning this is sturdy and will last for years. It's adjustable so you can fit massive E-Bikes, and was designed for the big fat-tire outdoors E-Bikes like QuietKat's.
The only real downside is that the ramp costs extra. However, it's really long and wide and attaches straight to the end of the rack after use. Perfect for loading heavy E-Bikes with loads of accessories.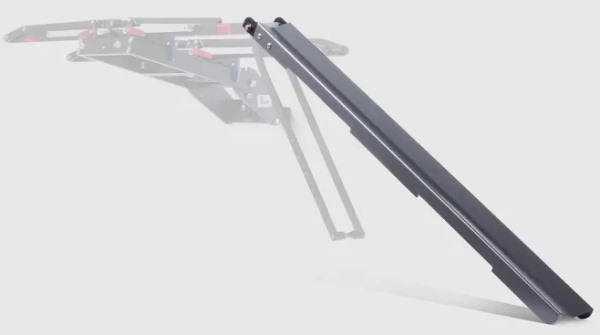 The rack folds up toward the back of the back for rear clearance or tilts down for trunk access. Both work with the same, easy-access handle at the bottom. There is an extra bar that rolls into place to keep the whole thing secure.
Everything cinches down and secures really well with aluminum handles. There aren't bike locks built into the racks, but you can purchase them from QuietKat or 1up at around $20 per wheel.
For those going off-road, there is a really high clearance at the back and additional bike spots mount higher than the first. All of these features mean that the rack can hold even the highest-rated and heaviest E-Bike that QuietKat has – the new Ibex – securely and safely anywhere you go.
The QK1Up has a simple allan wrench (with a drilled-out middle for security) that makes putting the rack on and taking it off of your car nice and easy. It also has an interesting ball joint inside the hitch part that reduces wobble greatly.
You can buy this in one, two, or three bike versions. There are also add-ons available if you want to upgrade later, to a maximum of four bikes and 275lbs maximum overall. Plus you can buy a hitch extender and wheel locks.
Great Heavy Duty E-Bike Rack With A Ramp – With A Catch
QuikrStuff Quik Rack Mach2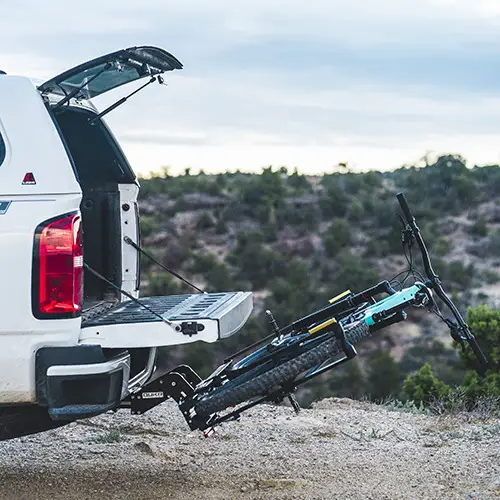 120lbs per bike – One bike
Works with up to 5″ tires
Integrated locks on bikes and receiver
Well-designed, easy to use out of the box
Expensive
Must buy add-ons for extra bikes
Ramp costs extra
Very long wait time
We've actually found what we think may be the best fat tire E-Bike rack with a ramp. However, it comes with a problem. These come from a small supplier who are struggling to cope with a massive aluminum shortage, plus massive demand – leading to very long delays.
That means these racks and the accessories currently have a minimum six-month lead time. If you have a fully-loaded E-Bike with 5″ tires that weighs up to 120lbs, this may be your only option. You will be charged upfront when buying and will have to wait your turn.
The rack is sold as a single for $649, with add-on bike sets at $449. They lock together securely using the same key.
The QuikRStuff rack secures bikes by the tires with a clever and very adjustable mechanism. The whole thing also drops back for trunk access. Take a look at this video to see the whole system in action.
The QuikRStuff rack can hold up to 120lbs per bike and are pre-built for really fat tires. The hitch is really secure and lock. The whole thing folds up on the car when empty, or folds together to carry it away (though no wheels).
One extra problem is that the ramp is an accessory so needs to be ordered on top of the rack. It's easy to store and locks with a matched key, and is very long at 53″. However, it's currently a $229 extra.
Given the base price of $649 for the rack plus the ramp, that means you're looking at $878 for one bike and a ramp. From there it's an extra $449 for an add-on bike. With a maximum of 4 bikes on the 2″ hitch, and 3 total on the 1.25″ model.
Related articles
– Best Electric Bike For Heavy Riders
– Are Electric Bikes Waterproof?
– Does Riding An Electric Bike Help You Lose Weight?
E-Bike Rack Extras
If you need to extend your hitch receiver to get past a rear-mounted tire or similar, we wouldn't recommend buying any of the cheap options online. You want stability for your rack and E-Bikes. Go to a mechanic or local welder and get an extension welded into place instead.
E-Bike Racks On RVs
It's important to note that mounting an E-Bike rack on an RV may cause you insurance issues. Also, some bike racks are rated by the manufacturer to hold a lower weight on an RV. The Yakima OnRamp for instance advises 66lbs per bike on a car, but 40lbs per bike off-road or on an RV.
You should also check your vehicle type is rated to take a receiver and rack. Some racks are only compatible with certain types of cars.