Rad Power make some of the best-selling Electric Bike models in the US and Europe – and for good reason. Their range includes excellent all-rounders like the RadRunner, incredible cargo and kid carriers like the RadWagon, plus the RadRover fat tire E-Bike for off-road fun.
With the range, there are a huge amount of different accessories and options to choose from. That versatility is part of the reason Rad Power bikes are so good. You can take a base bike and totally customize it to suit your riding style.
We've run through all of the options and found the best Rad Power accessories for each task, as well as the best aftermarket Rad Power options to take it a step further.
What Accessories Do You Need For A Rad Power Bike?
Simply put, we think all riders need a helmet and a bike lock. Keeping your brain and your E-Bike safe are the only must-haves. Otherwise, it's up to you. The most helpful accessories for any E-Bike are:-
Rear Rack – For strapping on gear, even better with a basket or pannier racks.
Basket – Rear-mounted is better for size and stability, front-mounted add extra storage.
Bike Rack – If you want to go further afield, a sturdy bike rack for your car is a great idea.
Mirrors + Lights – Adding these will help you keep an eye on traffic (or the kids) and help traffic keep an eye out for you.
Bags / Pannier Racks – A big pannier rack or a removable bag with cool features adds a few options to what you can do with the bike.
We've included our favorites for each of these with full details below. Also, scroll the bottom for three cool 3-D printed extras! If you just want to quickly check our faves – use this quick list.
Best Rad Power Accessories
Helmet – Giro Camden for Commuting – Bern Hudson for Leisure
Bike Lock – Kryptonite New York Fahgettaboudit Chain & U-lock
Rear Racks – Rad Power's own range of rear racks
Basket – Rad Power's own range of baskets
Bag – BV Bike Bag
Light – Premium Headlight
Mirrors – Hafny Mirrors
E-Bike Helmet
E-Bikes are faster and accelerate more rapidly, meaning they are more like to get in worse crashes than standard bicycles. There is even a higher standard for E-Bike helmets called NTA 8776 which covers more than a standard bucket would.
As a result, we really insist you wear a helmet while riding an Electric Bike. We wrote a full article on the Best E-Bike Helmets. To sum it up, our two choices for commuting and leisure are below.
Best E-Bike Helmet For Commuters – Giro Camden MIPS
NTA 8776 E-Bike Certified
MIPS Protection
Large, Bright Rear Light
Adjustable Top Vents
Dial Fit
An innovative, safe helmet that ticks all the safety boxes. With a nice adjustable fit, vents, and an understated grey or black color – this will do you well in a city.
Best Electric Bike Helmet For Leisure – Bern Hudson
NTA 8776 E-Bike Certified
MIPS Protection
350g Total Weight
Removable Rear Light
Removable Cap-Style Visor
13 Vents
The Hudson is a nice-looking E-Bike helmet that's great for leisure riding. It looks smart and has a removable sun visor and rear light. As well as meeting the safety standards for E-Bikes, it's also comfy and cool.
Electric Bike Lock
We only recommend big, chunky locks for Electric Bikes. They're more expensive and can be a little unwieldy, but there is no point in small, light locks for E-Bikes. If you park up anywhere in a city, your bike is now a high-value target.
Any thief with bolt cutters or a circular saw can get through cheap U-locks, folding locks, or simple cables in seconds. Please don't skimp out on this part – it's not worth it!
Kryptonite New York Fahgettaboudit Chain & U-Lock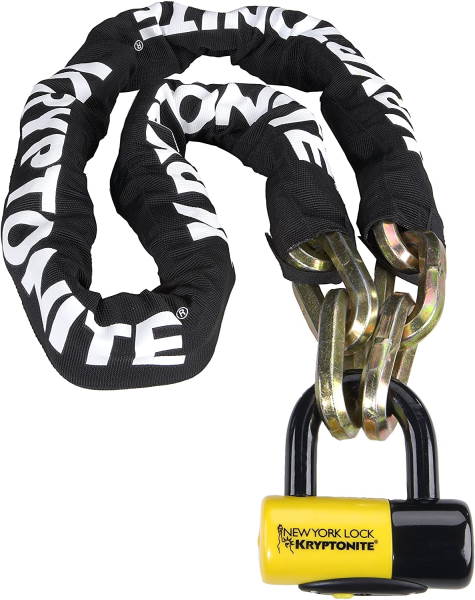 14mm manganese steel links & 15mm shackle
Sold Secure Diamond rating (highest)
5 foot long
Heavy at 10.8 lbs / 4.91 kg
With a 14mm chain and a Kryptonite U-lock, this is basically the best you can get as a combo. A tried and tested combo with quality metal, lock, and Kryptonite's warranty and LED light key. This will stand up to all but the most determined scumbags.
Try to get the 5-foot version as you'll be able to get it through both wheels, the frame, and around a post. Much cheaper on amazon (nearly $100 off retail price).
Read more
Best Electric Bike Locks
Rear Rack
If you have one of the bikes in Rad Power's range that doesn't have an integrated rack – getting one is our top choice for helpful extras. It turns a city or off-roader into something much more versatile. Rad Power's own rear rack fits their models perfectly and gives good stability and options for storage from there.
The RadRover, RadMini, and RadMission all have their own rack models that fit perfectly. They're sturdy as they're specifically designed for the built-in mounting points and are made of thick metal. Each comes in a classy black or fun orange colorway.
Having a rear rack is great for mounting things with a couple of bungee cords, or you can add a basket or pannier rack. The options are really endless and there are even some cool adapters (see below) for milk crate mounts!
The rear racks have an advantage in that they protect the bike a little more if it falls to the floor. Instead of the spokes or wheel taking the hit, the burly metal rack will instead. All are easy to install and ship directly from Rad Power.
Baskets
Adding a big, sturdy basket makes carrying cargo a breeze. Rad Power have a range of sizes with a few different liners – and even a pet carrier basket!
You can choose large or small – though will need the rear rack already installed. You can also get a front-mounted basket that requires no extra tools and will fit all of the different models.
Check Rad Power's full range of baskets
Best Lights For Rad Power Bikes
Personally, we think the premium lamp from Rad Power is actually the best light for their bikes. It's got a cool-looking "bulb" design, mounts to pre-placed points on the bike (or front rack), and attaches directly to the battery.
You don't need to remove it to charge it, and installation takes less than five minutes and just needs a few tools. Check the video below for more information.
Rad Power Premium Light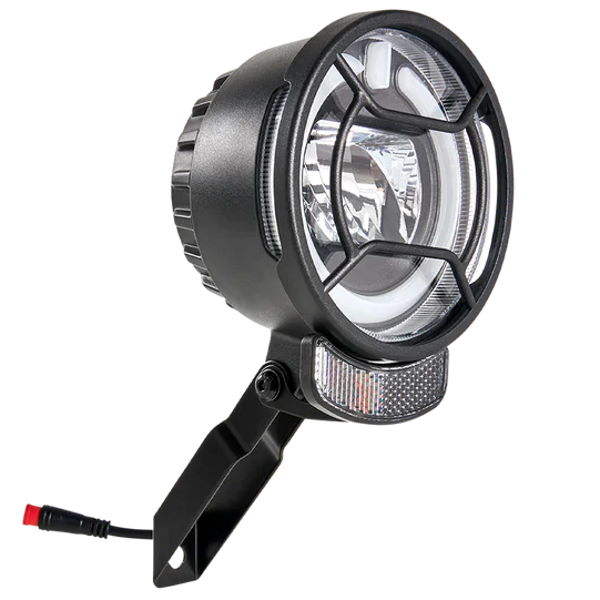 Best RadWagon Mirrors
Adding mirrors to your new Rad Power bike means you can keep an eye on fast-moving traffic and respond if anything is getting too close. Making sure your kids are OK behind you becomes way easier too.
These mirrors will fit the RadWagon or any of the Rad Power range (from 2018 onwards). They're easy to attach and come with everything you'll need for the job. Rad Power sells their own but these are cheaper and do the job slightly better as they are more adjustable.
Hafny Mirrors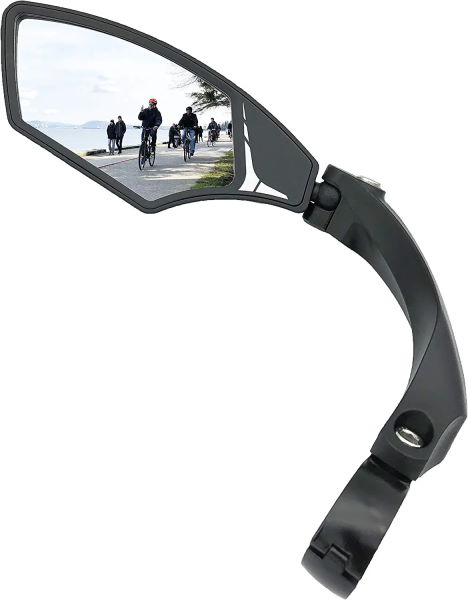 If you'd like to learn more about some other options, check out our full guide to the Best Mirror For Electric Bikes.
Best Rad Power Bags
What you want to use your bike for really determines what bag you should get. However, this Bike bag from BV will have you covered for most things. It sits on top of your bike rack and lets you use the top if you need more space.
It attaches to the top and sides and clips on so it won't move about. That low center of gravity (as long as you equally stuff the sides) will help your stability as you ride.
Best Aftermarket RadWagon & Rad Power Accessories
RadMini Milk Crate Mount
If you don't want a full pannier rack and basket, you can still go for the classic milk crate. Instead of bungee cords or straps, this enterprising Etsy store has made some 3D-printed mounts!
These attach to the rear of the RadMini's rack and let you fit a standard milk crate to it with nothing more needed.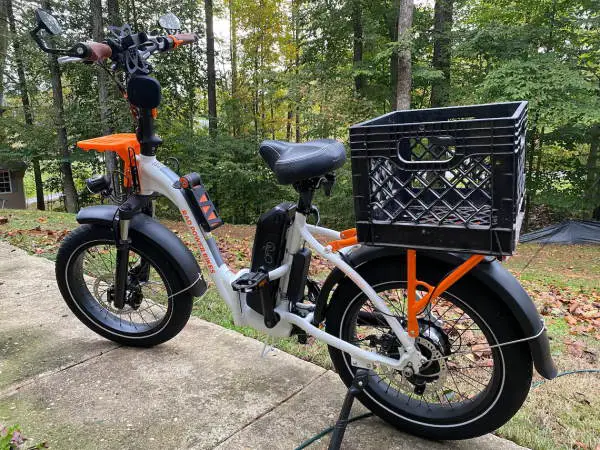 Thumb Throttle
Another really cool little invention from the same shop is a thumb throttle. Simply attach it to your twist throttle and tighten it, then you can use your thumb instead of your whole wrist! Comes in gaudy Rad Power orange or a more understated black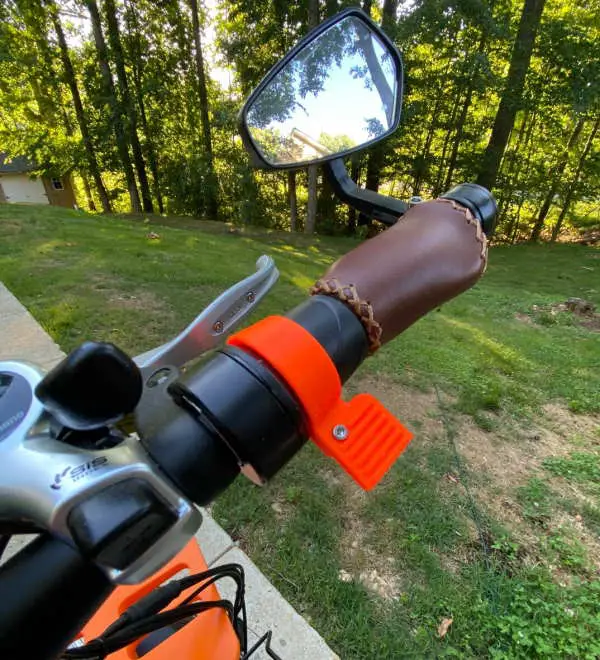 Bike Charger Wall Mount
Yet another winner from Etsy! This wall mount kit allows you to attach your battery and the charger to your wall to charge. Once you're done, the cable to the wall and to the battery both tuck away into a slot on the side of the charger mount.
This makes charging much neater and easier, instead of having a mess of cables on the floor. A really great idea executed well.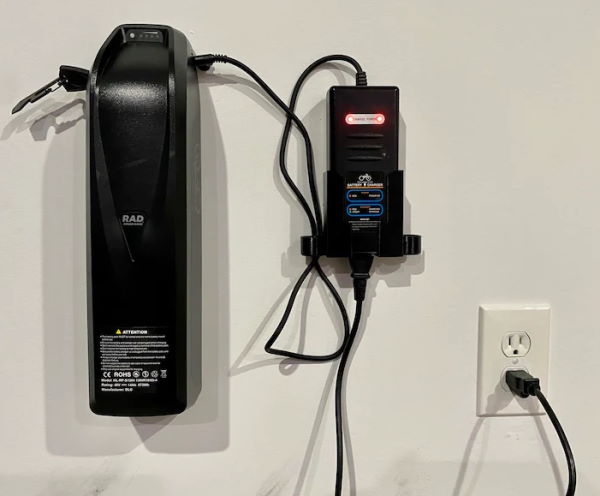 With all the fun stuff out of the way, one extra you might not have thought of is getting Electric Bike insurance that would cover you and your family in the case of an accident. If you use your new Rad Power bike regularly, it could be worth the cost and it ends up being way less than traditional car insurance.