One of the best comfort upgrades you can get for your new E-Bike is a suspension seat post. Having a comfy seat is great – but adding suspension will make it feel like you are riding on air – not on a bumpy trail!
Should You Get A Suspension Seat Post For An Electric Bike?
If you've got an E-Bike that doesn't have suspension, or the suspension isn't quite as soft as you'd like – then yes, it's a great idea. Suspension seat posts are a relatively new idea but have caught on very quickly.
Having complicated and expensive suspension on your front posts or rear frame costs a lot. Many brands opt for no suspension or just a light version on the front. A suspension seat post can work out much cheaper and do a better job of saving your… rear.
Simply put: If you want to reduce the strain on your back and butt, a suspension seat post is a great buy for an E-Bike. If you have back pain, ride mainly sitting down, don't like your bike's current suspension, or just want a softer ride – these are definitely for you.
Out Top Two Best Suspension Seat Posts For E-Bikes
Best – KINEKT Bike Suspension Seatpost
Budget – Suntour SR SP12
Read full details below

What Does A Suspension Seat Post Need?
Suspension seat posts for E-Bikes really aren't much different than regular seat posts. You just have to make sure that you cover a few bases before you drop the cash on one.
Good design – Don't cheap out on a badly designed suspension that won't actually cushion anything. There are different types that use springs in the tube, springs under the seat, air compression, or even deforming plastic polymers
Get the right size – There are different diameter seat posts made for different sizes of seat tubes. More expensive, lighter bikes are generally thinner overall so require thinner diameter seat posts. Check yours before buying
Length – You want to sit in a comfortable riding position. Seatpost length is important for this. For cruisers, that's probably fairly low so you can sit upright. If you'd like to go faster and be more efficient and aerodynamic, that means a higher seat and a more leaned-forward position. This is up to personal preference
Setback – This measures how far back the clamp of the seat post (this clamps to your seat) is versus where the middle of the seat post is. You might find yourself sitting a little forward or back from where your previous seat post was. You can adjust this a little by playing with the clamps
Rider weight – Check your weight is within the maximum and minimum range given. You can always adjust, but sometimes you'll need to swap out the springs for the right ride
Best Suspension Seat Post For Electric Bike
KINEKT Bike Suspension Seatpost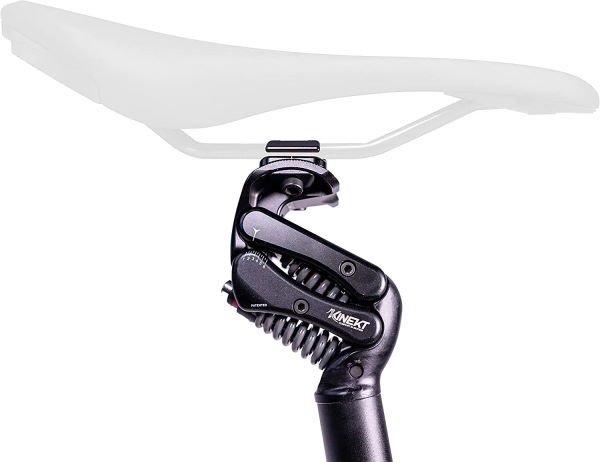 Double compression spring
Adjustable suspension and seat angle
Comes with extra springs for different rides
Supports riders from 80-320 lbs
Around $250
Great reviews
The carbon version has a lighter post for a higher price
This seat post is the whole package. It's made of lightweight aluminum, has dual springs, comes with three extra interchangeable springs for your riding preference, and has multiple diameter and length choices.
Riding on it is an absolute dream and the patented spring system has a tonne of positive reviews. It comes already set up, but you can adjust it or change out the springs (all included) to get a softer or firmer ride to suit your needs.
You can also adjust it on the fly with a tiny hex key or buy their extra control knob to adjust with just your hand. It handles really rough terrain amazingly well and is more than enough to handle a city ride on badly maintained roads.

Depending on your weight, choose the LR or XR using the chart below. Then select the right diameter for your seat. Remove your own seat post and measure the length from the very bottom to the very top.
Select the closest length or go taller if you prefer a higher-up ride. Keep a minimum of four inches gap between the top of your frame's collar and the rails on your seat – and you are good to go!
If you'd prefer something on a bit more of a budget, check out…
Budget Suspension Seat Post For E-Bike
Suntour SR SP12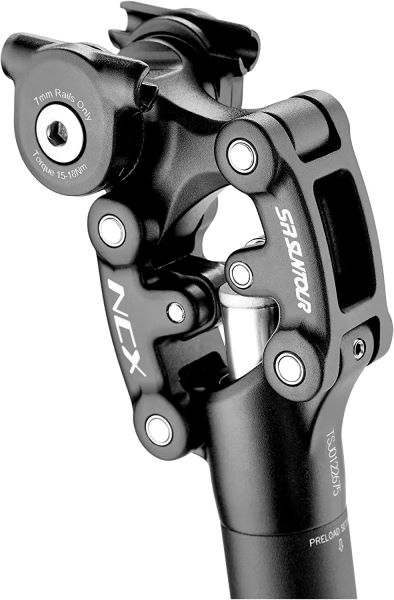 Comes in 2 post diameters
Excellent in cities or in trails
Adjustable
From $72
Can buy springs for different weight riders
If you don't need the absolute best suspension seat post or you don't have the cash for the KINEKT, the Suntour SR SP12 is a great option. It's supportive and cushions really well on light trails or in the city.
The spring for the Suntour is inside the tube which normally means a straight up and down movement. However, the mechanism at the top allows you to move back as the spring compresses.
That means that it works the same as the KINEKT above which means your knees don't compress. That means you keep the same hip-to-pedal length for more efficient pedaling. Basically, that's what you want.
For $72, this will be a massive upgrade for most E-Bikes that don't have any suspension.
You can adjust the spring but you need to remove the seat post to get to the hex key slot underneath. You can also swap out the springs and get lighter or heavier ones from Suntour directly. If you don't feel the movement, you need to adjust the springs or get different ones.
More E-Bike Accessories to upgrade your ride
– Best Electric Bike Locks
– Best NTA8776 E-Bike Helmets
– Best Electric Bike Rack With Ramp